Cypress County appalled by HEMS Review
Posted on July 13, 2021 by 40 Mile Commentator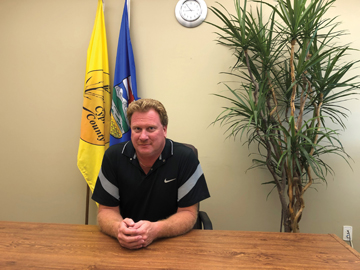 County Reeve Dan Hamilton
Commentator/Courier
Cypress County felt appalled and dismayed  after reading over the recently released Helicopter Emergency Medical Services  (HEMS) Review.
"The report was released with outdated information after a 15-month delay and revision at the end of June," as read in Thursday's press release.
Findings in HEMS Review found that helicopter emergency medical services are particularily vital in rural Alberta and only recommending STARS at a significant increase for their current level of service to "almost all Albertans" from their exiting bases.
"There is no mention of funding for HALO, or HERO (based in Fort McMurray)," said the release.
"STARS are unable to provide emergency response past the Medicine Hat hospital without refueling, meaning emergency response to any other areas in the southeast including Cypress Hills Provincial Park would be significantly delayed."
Reeve Dan Hamilton thinks this area needs more respect.
"In an emergency when seconds matter, a 12-minute medical response from Medicine Hat is vital," said Hamilton.
"Citizens in the southeast of Alberta pay taxes too, their lives should be treated with just as much respect as those in the major centres, we should not be treated as second class citizens. Cypress Hills is a Provincial Park receiving thousands of visitors year-round—the province should be responsible to ensure appropriate emergency response is available.  HALO is not asking for STARS level of funding, not even close, they just need predictable and stable funding to continue the essential work they do as an emergency service in the outheast."
Hamilton added, ""We are asking Minister Shandro to consider all the facts presented to him from all sources and make a decision that regards the lives of every Albertan equally."