Long-time local farmer not surprised by heat waves' outcome
Posted on July 13, 2021 by 40 Mile Commentator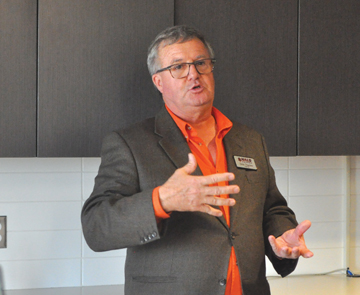 Commentator/Courier File photo Dale Thacker.
By Justin Seward
Commentator/Courier
Dale Thacker of Dale Thacker Speciality Crops called the outcome of the heat wave "a mixed bag."
"You know after the cold spring, the heat was appreciated for irrigation ," said Thacker.
"But our dryland on the north side of the river is pretty well done. There's nothing left—it's pretty well eliminated."
Thacker's farm is one-third dryland and two-thirds irrigation.
"It was a lovely spring. But it doesn't matter how good of a crop you started with—if you don't get rain— it doesn't finish right," said Thacker.
"Everybody's got different crops with different timelines and different needs. But in our case with wheat and peas on dryland, they're pretty well done. A little better hear near Bow Island than over in the north—there's just nothing."
Thacker thinks the crop wipe out is just a part of dryland farming.
"Last year was probably the best year I could remember and this is the opposite," said Thacker.
"But that's always been the case. You get good years and bad years."
Thacker says with the lessen work load on dryland will bring up concerns for next year.
"If we don't get rain before next year, the problem just pushes (forward," he said.
Switching gears, local bean crops have  thrived during the heat wave, according to a Viterra official.
"Beans are doing quite well," said Jim Rex, Viterra senior fieldman.
"With the heat, the beans were in a stage that were pre-flowering, pre-blossom. So, they were (at)a growth stage actually. So, as long as they had some water, they grew and everybody seem to be watering last week."
Once beans hit the flowering stage, the crop will need to have moderate temperatures.
"But they'll take up the 30 degrees no problem," said Rex.
"Especially if the night temperatures are low, in the teens they'll do fine. So, they kind of enjoyed this heat. They grew a lot, this past 10 days (prior to July 5)."