Morgan family wins County of Forty Mile Farmer of the Year Award
Posted on July 13, 2021 by 40 Mile Commentator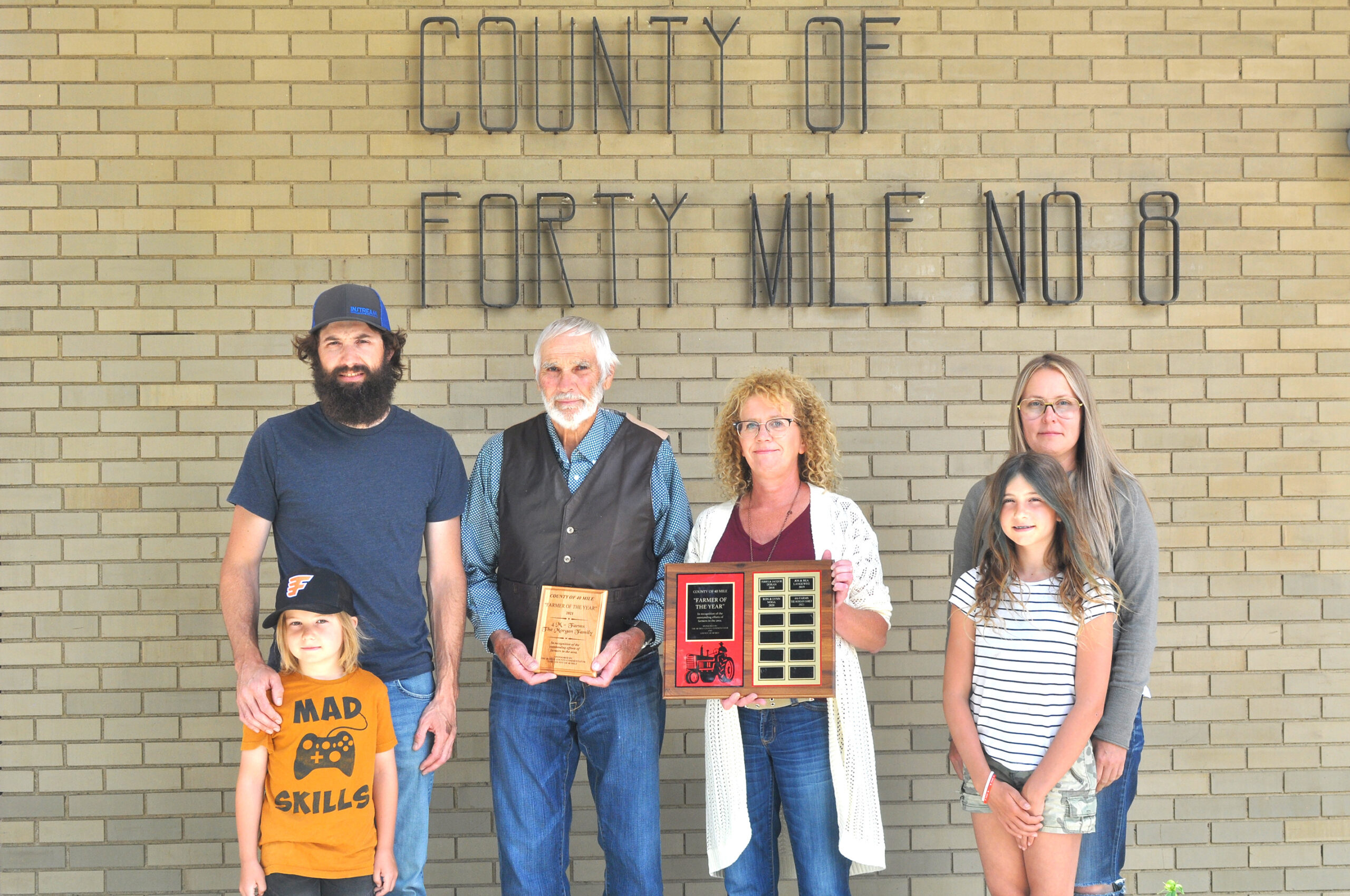 Commentator/courier PHOTO BY Justin Seward County of Forty Mile Agriculture Service Baord member Diane Harty (middle) hands over the 2021 Farmer of the Year Award to the Morgan family on July 8.
BY Justin Seward
Commentator/Courier
4M Farms Ltd. accepted their 2021 Farmer of the Year Award at the County of Forty Mile office in Foremost on July 8.
On hand for the presentation of the plaque from County Ag Service Board member Diane Harty  were John, Ryan and Mandy Morgan and their kids Tove and Bella.
John's grandad initially homesteaded on the farm southeast of Foremost in 1915 and the Morgan family has been their ever since.
"It's unexpected that's for sure," said John.
"(It) just about knocked me off my chair when Kevin (Jesske, County Agriculture Fieldman) said to me, 'You've been nominated for the Farm Family.' It's an honour to receive it because there's lots of great farmers in the County of Forty Mile and somebody picked us as the family for this year."
4M Farms had a mix of dryland crops and cattle.
"Probably the best place in the world I guess," said John, on farming in the county.
"You wouldn't know it this year with the lack of moisture. But last year, it was exceptional. So, I guess you have to take the good with the bad."
The Morgans have been able to adapt to today's farming practices by attending different conferences and see what other farmers are doing as far away as the United States and other continents.
"I'm trying to read the land better and see what it's trying to tell you and react that way— I guess be proactive," said Ryan.
The farm has been using stripper headers to conserve more  land moisture and results in the reduction in weeds.
"And yeah, that obviously improved yields—lesser inputs and hopefully greater returns," said Ryan.
The Morgans were nominated by Chet Dykshoorn.
"4M Farms uses conservation farming practices including zero till and stripper headers to leave cover on the ground," said Dykshoorn, in the nomination package.
"They use a healthy rotation of cereals, pulses and oil seeds and have also started experimenting with regenerative practices to improve soil health. This includes poly crop trials and biological product application. They manage their native grasslands to encourage long-term health. They do this by not over grazing and rotating livestock at different times of the year to allow for and rest and recovery period of the native grasses. They have also used some rotational grazing practices on some annual forages."
Harty said the county has some very good people that were nominated.
"It was a very hard decision," said Harty.
"The one thing that really stood out to us was they all still live actually on the farm. They do everything together."