Burke named 23rd base commander at CFB Suffield
Posted on July 20, 2021 by 40 Mile Commentator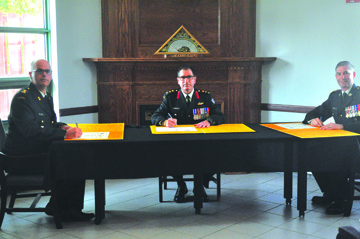 Commentator/Courier Photo by Justin Seward Lt. Col. Troy Leifso (right) signs over command of CFB Suffield to Lt. Col. Stephen Burke (left) during the Change of Command Ceremony on July 12. Col. R.W. McBride signed off on the change of command.
By Justin Seward
Commentator/Courier
CFB Suffield held its biennial Change of Command Ceremony on July 12, where Lt. Col. Stephen Burke officially signed on as the new base commander for two years.
Burke brings with him to CFB Suffield close to 20 years of experience in the military.
The Halifax native joined the Canadian Armed Forces in 2002 as an artillery officer.
Burke also served the First Regiment — Royal Canadian Horse Artillery and led a Forward Observation Party in Afghanistan in 2007.
Burke also commanded headquarters and Services Battery for the same regiment from 2013-2017.
"I'm excited," said Burke.
"I'm very proud and humble to be here. This is a tremendous opportunity. It's a test and a trust — like I'm trusted as their single point of responsibility for a safe functioning and discipline of this base. I don't bear that lightly. I'm excited for it because I'm always up for a challenge and I'm very excited to work with all the officers, NCOs (Non-commissioned officers), communities (and) all of our civilian employees who are here and rely on this base."
Burke's focus will be on the social licence to operate.
"And one thing that does a grave-to-service to the magnitude of what it is here is when you look at the map," said Burke.
"In the army, the scale map is twice as large as a map that they issue here to actually have it on one piece of paper. So, there's 2,400 square kilometres of land that we have been entrusted with that's used by thousands of different people across multiple different stakeholders such as definitely the British, by the Canadian Army itself, the Suffield experimental guys at DRDC (Defence Research and Development Canada), not to mention all of our friends and neighbours with their ranching and their grazing and in industry of oil."
He will also immediately be looking at the impacts of the COVID-19 pandemic.
"I'm very worried about lasting implications to all of our work force for mental health — just being from both dispersed and numbing it back together again," he said.
"So, I want to try to rebuild to the greatest extent the sort of normal routines and rhythms of military life on the base. But in a way that everyone is comfortable with because you've got to recognize it's going to be a process and a journey. And we need to make sure that we're accommodating everyone along that journey."
He will continue to work on a safe and respectful workplace.
"As the leader of the base, I need to make sure that everyone is in a safe, respectful work place and held to the high standards that everyone in Canada demands of us."
Burke is joined by wife Andrea and daughter Amber and has already taken to the southeast region.
"I would honestly say it's a bit of a hidden gem," said Burke. "… coming down into the river valley and Echo Dale Regional Park. Frankly, if I had to brand southern Alberta, I would just take that picture and looking towards the north, so the historic site there, and you sort of look straight down the valley. I'd be like, 'That is how I would advertise Medicine Hat' because it was super stunning and I couldn't believe it."
His staff appointments included roles with a Close Combat vehicle project at CFB Shilo in Manitoba, an extensive planning and operational experience in Canadian Joint Operational Command and most recently the director of operations of Joint Task Force North in Yellowknife.
Prior to his military journey, Burke obtained a Bachelor in Math from Dalhousie University in Halifax.
Burke's predecessor is Lt. Col. Troy Leifso, who is now moving to a Chief of Defence staff job in Ottawa after his two-year term at CFB Suffield.
"It was fantastic," said Leifso of his Suffield experience. "The opportunities that are here in Suffield and in Medicine Hat are truly fantastic. I mean not only is it a beautiful part of the province, but the support from the community within Medicine Hat, Redcliff, Brooks and Cypress County — I mean they're always there if we needed support or help."
The base was able to meet a number of accomplishments under Leifso's command.
"One was continuing the great work that Lt. Col. Mike Onieu had done with the local community," said Leifso.
"Certainly, I hope we maintain that. Now, COVID has been a challenge to do that. We haven't had the same opportunity to go out and visit as much as we did. But before COVID had hit, we had gone out and we met with some of the friends and neighbours. And when we couldn't, we had sent letters and kind of talk about what we could do."
The Jubilee also reopened under Leifso's guidance.