Redcliff cuts ribbon at new Skate Park
Posted on July 20, 2021 by 40 Mile Commentator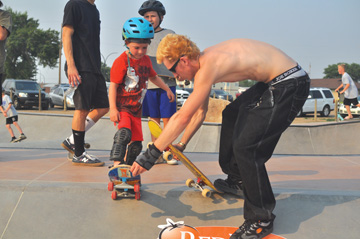 Commentator/CourierPPhoto by Justin Seward Wyatt Borley learns how to skateboard from Joshua Jessop of the Medicine Hat Skateboard Association during SkateSkool.
By Justin Seward
Commentator/Courier
The Town of Redcliff held a ribbon cutting ceremony to officially open the new Redcliff Skate Park on July 15.
The ceremony included an open skate to begin the evening's proceedings followed by a SkateSkool hosted by the Medicine Hat Skateboard Association, skateboard demos and the crowd could also enjoy food trucks before the ribbon was cut.
Redcliff Youth Centre was a part of the process since the idea came about in 2018.
"We got to help out a little bit with the planning— like the kids kind of came up with their own drawings— and the Town of Redcliff hosted an introduction to the Skate Park," said Janae Ulrich, RYC executive director.
"So, they (the youth) got to help out a little bit with where the Skate Park would be located … We helped out with a bit of fundraising and then we got to come and watch New Line Skateparks, and watch them create the skate park—which was kind of cool. And then the kids got to do some interviews with the guys while they were working."
Ulrich thinks  the addition of the new Skate Park will help promote community embodiment for local youth.
"It's something so important for us to get our youth involved with the community. So this was such a cool project to be a part of and so many of our youth utilize the park. Considering we're just right across the street, it just made sense for the Park to be here. And our youth, honestly, are so excited about this park."
Abi Huber expressed her excitement for seeing a skate park come to Redcliff.
"I like having the Skate Park because there's somewhere to skate and we don't have to drive to Medicine Hat every day," she said.
New Line Skateparks were happy with the end product.
"In a community the size of Redcliff, it is amazing for them to have a facility of this scale and it's a real testament to how hard they worked for it," said Everett Tetz, New Line Skate parks' manager of community outreach.
"Skate parks aren't things you just buy off the shelf. It takes a lot of hard work, a lot of community effort and it's exciting to see it come full circle."
Austin Walton made the short trek from Medicine Hat to try out the new skate park.
"This place is pretty sweet," said Walton.
"It's a really good park. It's a really good event to reach out to the community to get a lot of the kids out here. It's nice to see everyone come out here and just shred—skating, scootering, whatever you're doing."