Troy Loney Charity Golf Classic to raise funds for splash park
Posted on July 20, 2021 by 40 Mile Commentator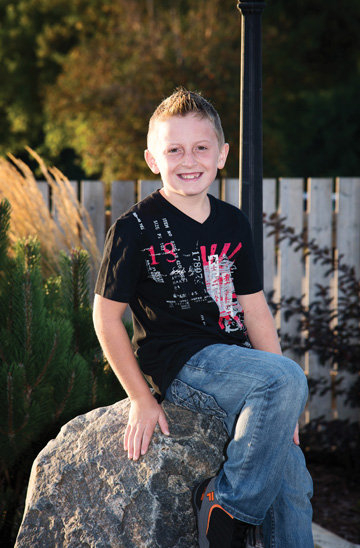 Kale Porteous.
By Justin Seward
Commentator/Courier
The Troy Loney Charity Golf Classic returns to the Bow Island Golf Club for the first time since 2016 on Sept. 16.
This year's tournament and auction and supper funds will go towards the Kale Porteous Memorial Splash Park project.
"For me it's always a great way to give back to the town that I grew up in and created a good foundation for me as a person and as a  player," said Loney, in a phone interview on Friday.
"And what we find is Bow Island (has) been such a good raising ground for many people, that many of us that have moved away still want to give back to the area that was so foundational for us."
What Loney enjoys about the Charity Golf Classic is he sees people he has not seen in a long time.
"I'm always amazed at how generous the community is and willing to get behind the event itself," said Loney.
Golf registration sold out in 20 minutes on July 12.
There will be 24 teams of five teeing it up beginning at noon that day.
"It makes for a great day—it's a fun tournament " said Craig Couillard, Charity Golf Classic co-chairman.
"It's not based on anybody winning the event. It's based on having a lot of fun and showing support for the families and for the project."
There will be various fun activities happening on various holes.
"On Hole five, it's a short par 3, and Troy Loney is always at that hole," said Couillard.
"So the team comes and they all do their chips on the short par 3 and then Troy shoots last and tries to beat anybody that's on the green. It's a chance to meet Troy and have a talk with him."
There will be 420 supper and auction tickets that will go on sale on July 27 at $35 per person.
The ticket link is http://www.eventbrite.ca/e/dinner-auction-tickets-troy-loney-charity-golf-classic-2021-tickets-163660778795.
"We're going to host it at the Bow Island arena and in addition to the 120 golfers, we're going to have another 420 tickers available for the supper and auction that night," said Couillard.
Loney will be guest speaking
Loney was a two-time Stanley Cup Champion in the early 90s with the Pittsburgh Penguins and ran the Charity Golf Classics in the 1990s while still playing in the NHL.
He was picked up in the expansion draft by the Anaheim Mighty Ducks in 1993, where he became their first captain in franchise
The 2016 event raised $80,000 for the Pleasant View Lodge and in 2018 for the Bow Island Library in Memory of Susan Andersen.