Foremost sees successful 2021 rodeo
Posted on August 3, 2021 by 40 Mile Commentator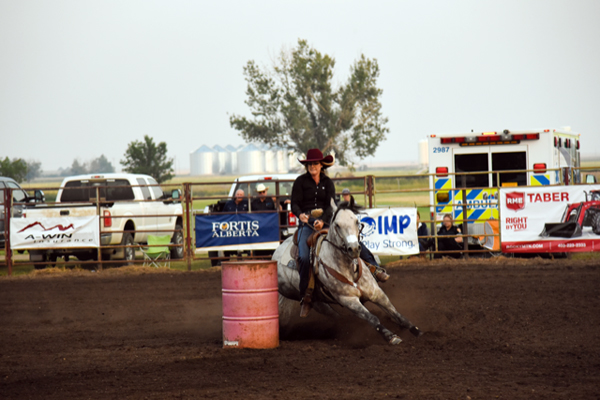 By Cole Parkinson
Commentator/Courier
Despite a quick turnaround for organizers, the Foremost Rodeo was successfully held earlier this month at the rodeo grounds.
With word finally coming Alberta was fully open on July 1, it left rodeo organizers with a small amount of time to get things together.
But despite this hurdle, organizers are reporting nothing but good news.
"We had great success this year. We were happy to be able to host an event and we put it together on pretty short notice because July 1 was the go-ahead for things to open up. So, we had that date picked out and once we had the go-ahead, we threw it together in three weeks," explained Stacey Barrows, ag society treasurer.
Held on July 23 and 24, both days saw a full slate of events for everyone.
Friday night saw a chilli cook-off, a beer gardens, kids sheep riding, pig races, a live band, the start of the slo-pitch tournament, and, of course, plenty of rodeo action.
Saturday was just as full starting with a free pancake breakfast before the afternoon parade and more rodeo action among many other events.
With plenty of things to do for the whole family, the village of Foremost saw plenty of people from outside their community come to take in the festivities.
"Everybody was just so excited to be out and about that I talked to. I think we had a lot of out of towners come to take in the event, too. I want to say on Saturday, we probably had over 700 people," added Barrows.
According to the Foremost Rodeo Facebook page, the rodeo saw a record-breaking attendance this year.
As far as the rodeo was concerned, everything ran similar to how it had in previous iterations.
"We were able to book everything we had done in the past years. So it was the rodeo as it was in the past years," stated Barrows.
On top of the rodeo, several events and locations saw plenty of people throughout the two days.
"I know the ice cream truck was lined up all day long," said Barrows, with a chuckle. "As for day events, the parade was lined up and down the street. We had a good turnout for entries so it was pretty exciting for people to be out and about. We got a lot of positive comments about having an evening rodeo. Being in June, we usually had an early day time rodeo, but with it being in July and hot summer heat, we went with an evening rodeo and we had lots of positive comments about that."