Well known horsetrainer enjoyed Foremost session
Posted on August 3, 2021 by 40 Mile Commentator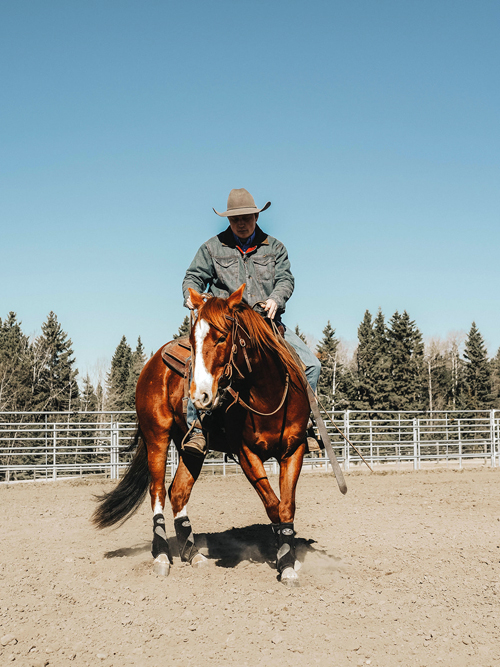 By Anna Smith
Local Journalism Initiative Reporter
Horse trainer Kade Mills has been working with horses for nearly all of his life.
Born in Kamloops, BC and currently living in Sundre, Alta., Mills was homeschooled at the age of 15, helping his father, Doug Mills, during the day and doing his schoolwork at night.
"I went back to public school to graduate from my last year but for the few years there it was kind of fun to travel around with my dad and meet people and train horses and watch my dad, teach people how to ride horses. It's kind of like a work experience program," said Mills.
Mills went on to work a series of other jobs often running tractors and other equipment, but ultimately always came around to horse training.
"It was just something that I always wanted to be good at. I started working towards it and never thought about it as a career until things started to slow down with some other business I was doing, so I just went into horse training and decided that was going to be my future," said Mills. "It was something that just kind of happened. I didn't have much of a plan, it just started to develop over time. And before I knew what it was all I did. I more or less never chose it, maybe it chose me."
Mills' approach to horse training is first and foremost about communication.
"It's been my experience that the more we try to seek the best way to communicate with a horse, the easier things go. The more I'm always trying to work and perfect the different ways you can communicate with a horse by using pressure release. And I find the better at it, the easier a horse understands and the easier time teaching them something goes. A lot of time, struggles with a horse are caused by just a misunderstanding, or a horse not understanding what you want. The more we learn to tell the horse what we want them to do. The easier it is to move forward."
Mills recently visited the village of Foremost to lead a private horse training  and riding clinic with this philosophy with some of the people there, including some members of the Foremost High School Rodeo Club.
"I've taken two of his father's clinics and they were really excellent. And then a friend of mine said Kade's is even better," said Gladys Stryker, who arranged for the clinic to take place. "I think he's just a gifted teacher and trainer."
"The clinic in Foremost was a lot of fun," said Mills. "We had a good group for riders, all different stages and all different plans for the riding. So we got to do some barrel racing, we got to do some pole bending, we got to do some roping on the machine there. Got to do some horsemanship, there was a fun clinic."
Mills noted it was different from other clinics he's done in the past in bigger municipalities.
"Usually you get a hotel. And it's very structured,  with very strict time limits," said Mills. "But when I was in Foremost, it was just a group of people that wanted to ride together every day, we didn't have a time limit or a structure. We just all met at the arena every morning and rode till we felt like we'd got enough done. A little less structured, which made it more fun. I actually stayed at Will and Gladys' place while I was down there, and the group all knew each other very well. If they weren't related, they were neighbors. It was like a private group, it wasn't a bunch of strangers right together. It was a bunch of families and neighbors riding together, which is kind of a cool dynamic."
Horsemanship has seen a rise in popularity in Alberta over the past few years, said Mills, especially during COVID-19.
"I think it's the connection with a horse that people are starting to find. The easier it is to find that connection, people are starting to get more and more excited about it," said Mills. "People are getting more and more excited about how to work with their horse, not just ride their horse. So how to teach them to do new things and how to learn more themselves, that's definitely been increasing over the years. I think COVID has had a lot to do with that. It seems like over the last little while with the pandemic, people have been staying home and riding their horses and having more time to do the things that they enjoy."
Mills plans to spend the rest of the summer both travelling Alberta and Saskatchewan for further horse training clinics, as well as working in his training barn, where he works with customer horses throughout the week.