Work resumes on future agricultural school site
Posted on August 3, 2021 by 40 Mile Commentator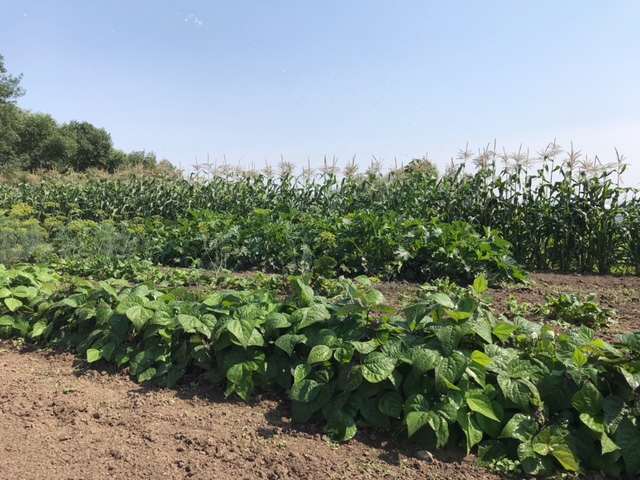 By Anna Smith
Local Journalism Initiative Reporter
Construction is underway after delays for the Agricultural Discovery Centre (ADC) in Irvine, and is expected to be finished in time for the start of the 2021-2022 school year in September.
Located on the playground at Irvine School, the Agricultural Discovery Centre will function as a miniature scale farm, allowing students to gain real, hands-on experience in many different aspects of the industry.
"What the program has been designed around is, first and foremost, there is a great opportunity for children to be part of environments that encourage hands-on learning and exploration, problem-solving, foster entrepreneurial spirit, and ultimately create critical thinkers," said Nichole Neubauer, agricultural educator at Neubauer Farms and one of the partners behind at ADC. "I think it's really important in education that we need to prepare our students for tomorrow by equipping them not only for what the needs of today's society is, but for what it will need in the days to come. We want to encourage, and inspire kids to start thinking about agriculture and careers related to agriculture."
The ADC will feature small-scale versions of many aspects of farming and ranching life, from cattle and chickens to growing produce and exploring the entrepreneurial side of agriculture as well through markets and livestock auctions.
"We will have a large variety of livestock, it'll all be in small numbers, but you can learn everything you need to learn about cow and calf health,  development, feed, growth and all of those things with a single cow and a calf as you can with 50 or 100. The same concepts apply. We'll have a number of calf shelters that we're going to use two as a shelter and protection and free-standing corral panels to create small paddocks for pigs and we're going to have dairy goats and beef goats, sheep, the cow calf pair and a couple of feeder steers as well. We're really mirroring some of the great teachings. No sense in reinventing the wheel. Then we have a large growing area, which will have everything from apple trees and strawberries to growing market garden, as well as some small demonstration plots, just to help kids identify what lentils look like, what's mustard, what's hemp.  Then of course, they'll explore all the possibilities that each of the crops, traditional and specialty that are grown in our region, what they become and how we add value to them, and where they go all over the world."
While the ADC will not keep animals over the winter, students will have the chance to be involved in the process year round, said Neubauer.
"The plan is for it to be basically like a middle of April to an end of September, beginning of October site, that's when it'll be active and then it will actually be winterized and not used in the winter, just because of just the additional costs that would be required to have heated stock troughs and the complexity of keeping animals over the winter when there's storms," said Neubauer. "We don't have a tractor to clean pens if there was a big snowstorm. So in the interest of keeping up the livestock they'll be auctioned off and rehabbed or harvested hopefully, and then those funds will go back into the ag Discovery Centre for future investment."
"When the students come back to school in September, the site will be prepared and it'll all be set up, but we're gonna have a bunch of problems or challenges that need to be addressed," said Neubauer. "The garden space right now is all just prairie sod. We have an irrigation system that needs to be installed, we need to create a good growing environment to plant our garden. We're going to do research and the kids are going to come up with ideas, maybe we'll build some raised beds, or we'll do straw bale gardening, or they'll find out ways that they can amend the soil."
The ADC will also be working with local vermiculture company T.R.A.D. Worm Industries to create a school wide organic waste recycling program, which the students will be responsible for tending to over the winter months.
Students will not only be learning about agriculture; however, with the "adopt a class" program, students will become subject matter experts and answer questions for their urban peers, as well as tourists that may visit the ADC over the summer.
"Kids these days are very adaptable and very accepting of online learning, whether it's Google Classroom, or social media," said Neubauer. "Online presence is a great way to get messaging across, and it's a good way to reach out. What we thought is by partnering with a school division that already has connections with educators across the province and beyond, we could develop an online learning presence, where the students that are participating on the student led farm at Irvine would be partnered with kids that are in inner city schools that likely don't have the opportunity to visit or explore a farm."
Platforms like Google Classroom will be used to allow urban students to ask questions of the students at the ADC once they've become proficient in the skills taught there, allowing for demonstrations or even celebrations of the happenings in the micro-farm.
"Students teaching students is a really effective means of educating. Not only does it reinforce and cement the knowledge of the students doing the presenting experience, it's also really, you know, kids are all ears and they're listening to other kids that are doing interesting things," said Neubauer. "We're super excited to develop ambassadors of agriculture, public speaking, presentation skills, those are all going to be embedded as education outcomes for the Agricultural Discovery Centre. We want our students to be able to speak with confidence about what it is they're doing, what they're living, and even though they may not choose careers in agriculture, those communication skills will serve them well in future years, no matter what they do."
The goal of the ADC is not only to teach students the tools for the agriculture of today, but to prepare them to create and perform the agricultural jobs of the future, said Neubauer, such as the growing popularity of using drones to spot and spray weeds in fields.
"For our agriculture industry to really continue to expand and thrive, we can never stand still," said Neubauer. "If you're not expanding your years, if you're standing still, you're going backwards. We always need to be evolving and growing and changing, to keep up with, with new technology and new advancements. I always think of that. When we look at agriculture as a future driven industry, we really, really need to stop and take stock of, of our greatest asset that we have in agriculture and that is, that is our youth, the agricultural leaders of tomorrow. It's really important that we start taking the time to equip them for not only what industry needs today, but for what it's going to need in the days to come."