Alberta government announces back-to-school plan
Posted on August 17, 2021 by 40 Mile Commentator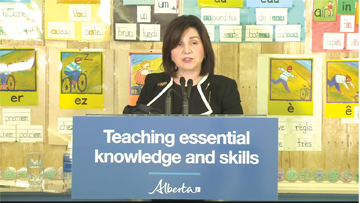 Screenshot photo Alberta Education Minister Adriana LaGrange
By Justin Seward
Commentator/Courier
The Government of Alberta announced a back-to-school plan on Friday to help keep schools safe as the COVID-19 pandemic lingers on.
The provincial government has made available an online  Guidance for Respiratory Illness Prevention and Management in Schools document at https://open.alberta.ca/publications/guidance-for-respiratory-illness-prevention-and-management-in-schools.
A  tool kit  for parents and school staff is also available online as to what to expect when students return to the classroom. That information can be viewed at https://www.alberta.ca/covid-19-education-and-child-care.aspx.
To stay consistent with the extended COVID-19 measures until Sept. 27, students and staff are encouraged to screen daily for the virus' symptoms using the Alberta Health daily checklist and still are required to isolate if there is a positive test.
"Thanks to the power of vaccines, I'm pleased that students can return to a normal school year in September," said Alberta Education Minister Adriana LaGrange.
"The safety of students and staff remains our number one priority, and we have a detailed plan that includes contingency scenarios for continuing student learning if there is a significant change in the COVID-19 situation. We will continue to follow the expert advice of Alberta's chief medical officer of health and are ready to make changes if needed."
A detailed 2021-2022 school year plan has been posted to the province's website with two contingency scenarios if cases rise in Alberta.
Contingency Scenario 1 pertains to in-school classes and allows for local school authorities to adjust their  calendars or the number and length of instructional days while meeting instructional hours that fit within the parameters  of all contractual agreements with school authority employees.
More guidelines under the first scenario include school authorities implementing routine measures to reduce the risk of transmission of COVID-19 and other respiratory illnesses, providing additional public health recommendations for children and student learning and extra-curricular activities  for those that are unable to receive immunization and outbreak management will continue to occur and follow similar intervention to influenza outbreak response.
Contingency Scenario 2 focuses on at-home learning where schools offer at-home learning opportunities to children and students based on provincial or regional context, school authorities continue with flexibility and make decisions on their calendars, schools will continue to work with families to ensure that learning will continue and students' needs are met.
"Should contingency scenario 2 be in place, the ability for the principal to award unallocated credits to students in grades 10, 11 and 12 may be activated. The total maximum number of unallocated credits any one student can use to graduate will be limited to 20 credits," as read in the school plan package.
Furthermore, student progression will still be monitored by teachers, students will be responsible in pursuing their education and public health measures must be followed.
As for vaccines in schools, temporary clinics in schools will be set up  for students in Grades 7 to 12 as well for teachers and staff.
Consent forms will have to be signed by parents or guardians before students receive vaccinations.
"Making sure Alberta's schools are safe is one of our government's top priorities. I am confident that this guidance will help keep students and staff safe, and our province's children and youth can go on to thrive in the upcoming school year," said Tyler Shandro, Albertans Minister of Health.As of Aug. 12,  65 per cent of 12 to 14 year olds have received one dose in Alberta, 54 per cent are fully protected with two doses, 67 per cent of 15 to 19 year olds have been partially vaccinated in Alberta with one dose and 56 per cent are fully protected with two doses.