Bow Island community garden project moved to 2022
Posted on August 17, 2021 by 40 Mile Commentator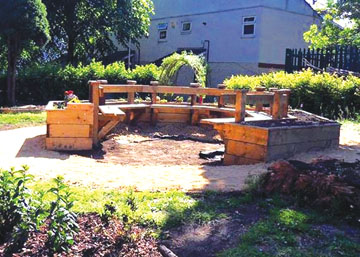 An example of a semi-circle flower bench.
By Justin Seward
Commentator/Courier
The North 40-Mile Tourism Society-led community raised garden project in Bow Island will have to wait until 2022 to get started due to lack of funding up to this point.
The hope was to start the project this year, but the grants applications were unsuccessful.
"Now we have to do some work to do some more fundraising," said Tina Mcilmoyl, Tourism Society member.
"So we will continue to look for grants as well that I can apply for."
The committee has not set a fundraising goal.
"We have big dreams," she said.
"So, we have a big project dream, but that's not what we need to get started. I don't have a number of what we need to get started."
Senator Gershaw School students have offered to build the raised garden beds in their shop class.
"There (are) small stuff we can definitely get started for next year," she said.
"I think it'll be a project that will get built on. It's not all going to be done in one season."
The project will have raised garden beds made out of treated lumber adnd will allow the seniors can get involved and sit on the edge of the structures.
The garden beds will have anything from perennials to vegetables grown in them.
The Society hosted a You've Been Flushed fundraiser for eight weeks between May and June.
The event saw a repainted toilet from the landfill placed on one of the board member's lawns and whomever had the toilet had the chance to choose where it would move to next.
"They picked a friend who they thought would participate in the fundraiser," she said.
"Then every night at 6 p.m. the toilet was moved to the next house. The board all had a week and we moved it throughout the eight weeks."
Funds were raised through asking for $20 every time the toilet was moved and toilet insurance could be purchased for $40 to ensure the lavatory did not return to their lawn.
The fundraiser raised over $2,500.
Project donations can be dropped off to Mcilmoyl at Bow Island town office and more information on the project can be found by calling her at (403) 545-2522.