Loney busy with life after hockey
Posted on August 17, 2021 by 40 Mile Commentator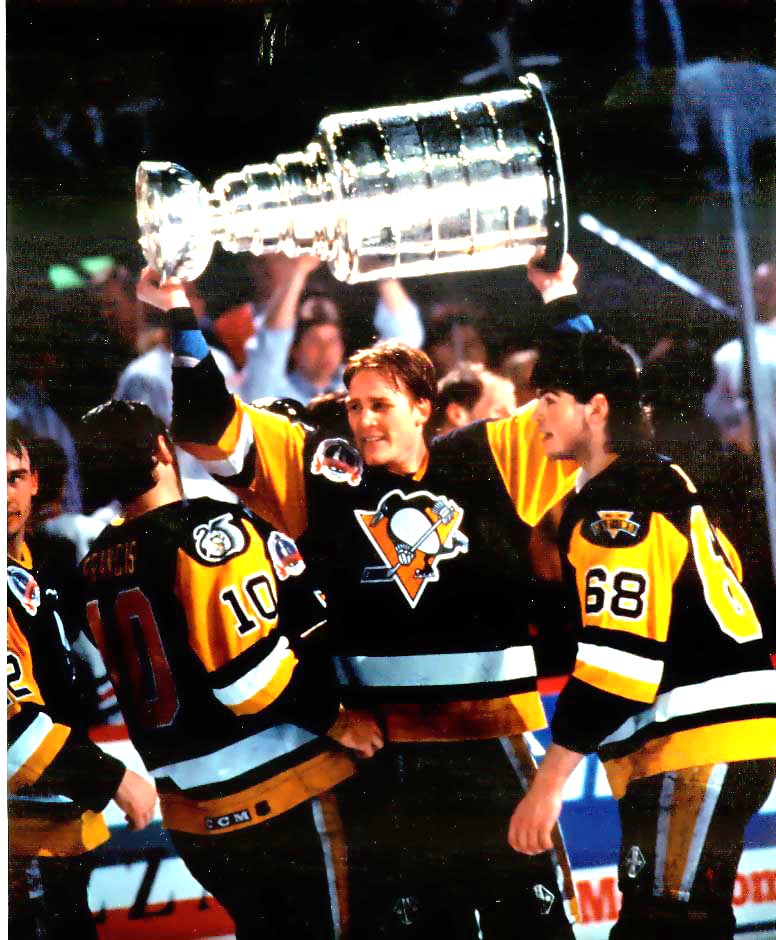 Photo Submitted Bow Island's Troy Loney won two Stanley Cups with the Pittsburg Penguins in the early 1990s.
By Justin Seward
Commentator/Courier
Former two-time Stanley Cup champion with the Pittsburgh Penguins and Bow Island native Troy Loney has been adjusting to life well after his career ended in 1995.
Loney, 57, began his NHL career with the Penguins in 1983 at age 19 and won two cups in consecutive years in 1991 and 1992.
Loney flip flopped between the Penguins and their farm team in Baltimore until the 1986/1987 season, when he got on full time with the big club.
"I started basically full time the year Mario (Lemieux) came to the Penguins— he was a couple of years younger than me," said Loney.
"And then saw the Penguins go from worst to first. So, it was not fun to be involved when you're the worst. But to see it go full circle and have the city really change from not being a hockey town to being a hockey town was something special. I've been fortunate to play with some tremendous teams. After we didn't win a third year in a row I went through an expansion draft and went to Anaheim."
It was in 1993 that he was picked up in the expansion draft by the Mighty Ducks of Anaheim and became the franchise's first ever captain.
"We had just a good, down-to-earth team," said Loney.
"We played a very aggressive tough style—very strong defencively  and good goaltending—that part was awesome. Then when I asked to be captain— it's a tremendous honour to be captain of a team— and for a team in their first year, it was even more special. It was something that I'll never forget."
He ended his career with stints with the New York Rangers and New York Islanders in the 1994/1995 season.
"I had hurt my back during that season and we weren't quite sure what was going on with it," recalled Loney.
"But it became really obvious that I could not play anymore."
After retirement, Loney was a colour analyst for the Penguins from 1995 to 1997.
"We (Loney and wife Aafke, who hails from Foremost) just had our fourth child, and I was doing the colour on the radio, I was too close to hockey, and I knew I would want to coach and I just needed to try something else," said Loney.
That is when Loney started asking around to guys in the Pittsburgh area about what businesses they were in and ended up  choosing Pharmacy Benefit Management.
"I run a sales and clinical and marketing team for a private company based out of Boston," said Loney.
"But I've done some cool stuff. One of the companies I was with, we were traded on to Nasdaq (National Association of Securities Dealers Automated Quotations). We ended up getting acquired by another company and I ended up in a real good position there and had chance to go out to the Nasdaq. You actually ring a buzzer—there's the Nasdaq and the New York Stock Exchange, two different branches in the States— and I got to be a part of the group that got to ring the buzzer to launch your new company on the exchange."
He worked for Nasdaq from 1998 to 2015.
The Loneys bought into the Ohio-based Youngstown Phantoms of the United States Hockey League in 2014 and sold their share of the team in 2018.
It was in 2018 that Loney returned to the Pharmaceutical Management with the current private company out of Boston and has been there ever since.
"I like the challenge of doing something a little bit different all the time," he said.
Loney still keeps tabs on hockey through being involved with the Penguins Alumni Association, coaching up until six years ago, attending a few Penguin games a year and follows his kids in the game.
"My second boy (Ty) plays professional hockey over in Austria and he's been over there for four years, (and) spent some time in the minor leagues over here" said Loney.
"I see enough hockey."
Ty played Division 1 hockey at University of Denver and his other sons, Reed and Clint, played Division 2 college hockey in Michigan and daughter Aafke played field hockey and now is a teacher.
Loney pointed out some noticeable differences between today's game and his playing days.
"The skater game has changed tremendously," he said.
"The physicality of the game has changed and without a doubt the equipment is way better than it was in the years I played and the goaltending position has changed traumatically. It went from a small, brick goalie gaze to a blocking big goalie game and that has changed the game an incredible amount."
Loney will be back in Bow Island for his Charity Golf Classic on Sept. 16.