Etzikom Museum set to host Date Night at the Museum
Posted on August 25, 2021 by 40 Mile Commentator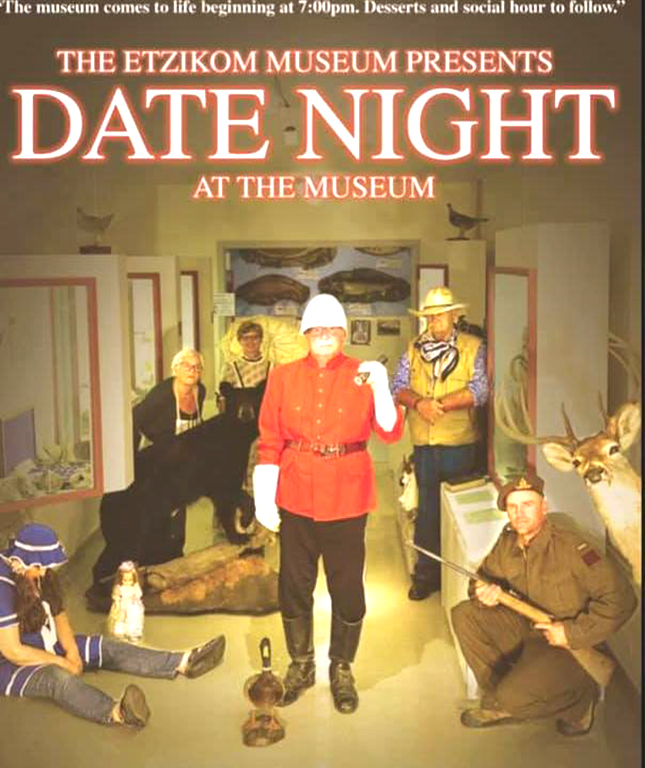 By Justin Seward
Commentator/Courier
The Etzikom Museum will be hosting a Date Night at the Museum next month to allow for guests to come enjoy the facility in a whole new light.
Museum society member Skyler Stromsmoe spearheaded the event idea last summer when his mom, Vickie, was making pies at the museum.
"She was there one evening making pies after hours and said, 'Well, do you want to come out and help me make pies or what not,'" recalled Stromsmoe.
"And I brought my wife Rachel with me and my mom happen to say, 'How was your date night at the museum?' I thought you know that's a funny idea because I've seen the Night at the Museum movies where the museum comes to life after hours I guess and kind of got the idea from there."
Date Night at the Museum will see local people and  Museum Society members dress up in costume from different time periods at the museum such as the Second World War or somebody from the Homestead era and interact with the guests by doing some acting.
"Hopefully a good laugh first of all and just something to bring interest to the museum," said Stromsmoe, on the guest experience.
"I know it is a historical museum—so nothing really changes overtime. But this a fun way to bring some of the artifacts to life and depending on the individual that's dressed up in each room, some will be acting more than others I'm sure with a story to tell with  the piece their wearing or where they're at."
Stromsmoe thinks with an event such as this, it brings the museum to the forefront of people's minds.
"I know a lot of people during COVID have kind of been locked down at home and this is just a fun evening to get out and enjoy time with friends and see a part of the community that maybe they haven't seen before," he said.
Organizers don't want people to be fooled by the Date Night part of the title as the event is for everyone.
Date Night at the Museum is set for Sept. 11 at 7 p.m.
There will be refreshments and dessert to follow the exhibit interaction.
Tickets are still available at $25 and can be purchased by calling the Etzikom Museum at (403) 666-3737 or by emailing etzikommuseum@gmail.com.