Motz thinks federal election at this time is 'selfish'
Posted on August 25, 2021 by 40 Mile Commentator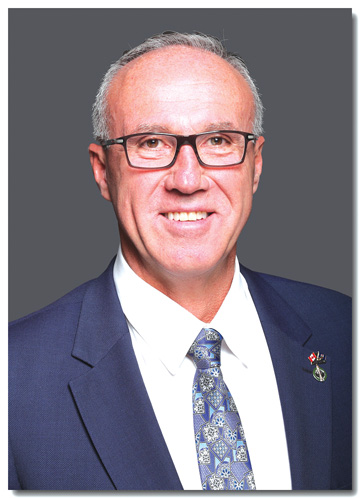 MP Glen Motz Ottawa, Ontario, on 18 October, 2017. © HOC-CDC Credit: Christian Diotte, House of Commons Photo Services
By Justin Seward
Commentator/Courier
Prime Minister Justin Trudeau called a federal election on Aug. 15, a move local incumbent MP Glen Motz said was expected, unfortunately.
"But it was just selfish," said Motz.
"His main motivation to me was, he doesn't like accountability and he thinks he's delusional to believe that he's going to win a majority government, and he wants a majority government because again it's a lack of accountability. He's not accountable then right—he doesn't have to seek approval from anybody to do anything—they just go do it. As Canadians, we can't let that happen."
Motz feels Trudeau has made this election about COVID-19 vaccines and is a topic that he finds troubling for Canadians with  their rights and a reason why the Conservatives are looking for a balanced approach.
"I think it's important that it's a personal choice and Canadians are not required to explain or justify those personal choices to anyone and certainly not including their government," said Motz.
"I get the whole idea about if you want to travel to another country and another country requires you to have proof of vaccine—the Government of Canada has a role to play to make sure those that have chosen to be vaccinated and travel have some sort of a documentation that they can then take to another country."
Motz supports the idea of visitors to Canada require testing to keep people safe from the spread of COVID-19.
"But to have a democratic country basically saying, 'Hey, if you're a public servant for the federal public service or if you're in a federally regulated industry, you're required to have a vaccine. It's mandatory for your employment, it's mandatory for your travel,'" said Motz.
"I find that an overreach by this government and quite frankly I strongly oppose any measures that infringe on Canadians chartered rights."
Motz believes that there are ways around infringement of people's rights with the COVID-19 vaccine by doing more rapid testing for those people that choose not to get vaccinated.
He sees this election as opportunity for Canadians to see who they have faith and trust in to solidify their economic future.
"There is hope", he added, in his Aug. 16 press release.
"We can once again restore the pride, the work and the growth to our communities, to Alberta, and to our country. There is no clean energy sector without an energy sector and we can bring Alberta back as an energy superpower. We can make life better for families, for business, for workers, for farmers, for seniors.  We can restore responsible government with the proper balance of powers. But to end the corruption, we will need your support.
The Conservatives are running on 'Canada's Recovery Plan.'
The list includes securing jobs by recovering the jobs loss during the pandemic, accountability by enacting new accountability laws, mental health through its action plan, Canadian-made manufacturing of medical and other supplies and the economy by balancing the budget over the next decade are included in the Recovery Plan.
Motz's  Campaign office is located at #135 – 105 Carry Drive in Medicine Hat and hours are 10 a.m. to 5 p.m. from Monday to Saturday.
The office can be reached at info@teammotz.ca or (403) 487-3600.
Canadians will go to the polls on Sept. 20.