Payne enters Redcliff mayoral ring
Posted on August 25, 2021 by 40 Mile Commentator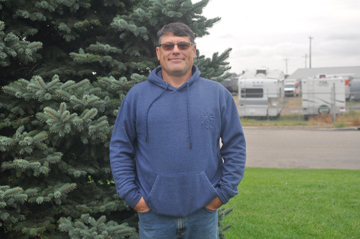 Mark Payne is seeking the mayor's chair in Redcliff come Oct. 18.
By Justin Seward
Commentator/Courier
Mark Payne has tossed his name in the ring as a Redcliff mayor candidate ahead of the Oct. 18 municipal election.
Payne has been a resident of Redcliff for 11 years and hopes to bring change to the town.
He has worked for the past 28 years in the agricultural and oil field industries and assists his wife Sheila with Payne Homes Inc.
"After talking to people in the community, there needs to be a change," said Payne.
"The way people are talking about the way wasted money was going in the town, people aren't happy with town council."
Payne realizes the town has the new skateboard park, swimming pool and the Redcliff Youth Centre, but there are still not a lot of amenities for the younger kids.
Additionally, he thinks there  is not a lot for the elderly either as those people still have to go into Medicine Hat.
"I want to change that," said Payne.
"I want to try to keep everybody in Redcliff. I want to grow Redcliff. I want us to have incentives for contractors to come and build and let's grow—let's grow together. And with help of the community and everything else, I'm sure we can do that."
Payne wants new businesses and to see the town grow more than the projections over the next 30 years.
He would like to work on getting a traffic circle at Broadway Avenue and Mitchell Street, sidewalks installed so kids avoid walking on the road to get to and from their buses and school zones placed in various areas.
What Payne likes about Redcliff is its small-town atmosphere and everybody wants to sit and talk.
"It's great," he said.
"I have no problems of going out and talking with anybody. (I am) walking my dogs and yeah people want to stop and talk—it's fantastic. It's a nice small community living, right close to a nice big city. But I want us to keep Redcliff, Redcliff."
Payne said, "If I get elected, my biggest thing is I listen to the people, I go talk to the people."
The campaign trail will be a learning curve for Payne over the next couple of months.
"It's going to be tough with Shawna Gale, Dwight (Kilpatrick), Ernie (Reimer)," he said.
Payne is up against incumbent mayor Dwight Kilpatrick, former mayor Ernie Reimer and current councillor Shawna Gale in the mayoral race as of right now.
He can be reached through Mark Payne for Redcliff Mayor Facebook page with any questions people may have during the campaign.