Plenty of fun entertainment at Redcliff Days this weekend
Posted on August 25, 2021 by 40 Mile Commentator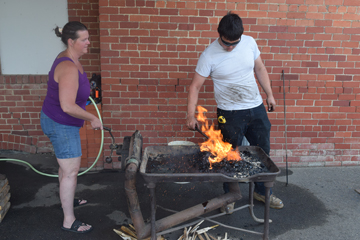 Commentator/Courier file photo Corinne and Justin Watson provided a blacksmithing demonstration at the Redcliff Museum as part of Redcliff Days in 2019. The 2021 event will have many activities for everyone this weekend.
By Justin Seward
Commentator/Courier
Redcliff Days attendees will have several events to take in as they wander around the town's streets and parks this weekend.
Planning began earlier in 2021 and was postponed from its original Father's Day weekend to the end of August due to the COVID-19 restrictions still being in place at the time.
"Everyone was very receptive to the date change and excited to be making a plan to get together and celebrate," said Carla Spampinato, Town of Redcliff FCSS co-ordinator.
All events will return from past years.
Festivities kick off Friday with a sidewalk sale from 9 a.m. to 6 p.m., the I-XL Brick Park opening ceremony at 4 p.m., a Friday Night Under the Lights 3-on-3 basketball tournament at Memorial Park from 6-10 p.m. for grades 7 and 8, and a beer gardens with live music from 6 p.m. to 2 a.m.
Saturday morning will start with a pancake breakfast at the Redcliff Legion from 7:30-10 a.m., a Show Up and Show Off Car Show at Lions Park from 8 a.m. to 4 p.m., a book sale at the Redcliff Public Library from 10 a.m. to 4 p.m., a drop-in to play at Twist 'n Flip Gymnastics from noon to 3 p.m. and a dunk tank and silent auction at Chic Crafters from noon to 4 p.m.
Events will wrap up Sunday at Memorial Park from 10 a.m. to 4 p.m.— with food truck alley, face painting, live music and demos, clowns, the Something for Everyone Market, pony rides, pedal tractors, glitter tattoos, bouncy castles and a Super Slam Saturday 3-on-3 co-ed basketball tourney for grades 5 and 6.
The beer gardens will open from noon to 2 p.m. Sunday.
Also on Sunday, Lions Park will have a Movie in the Park featuring Dolittle at 8:30 p.m., a free public skate at the arena from 10-11 a.m. and street hockey games in the arena's parking lot from 11 a.m. to 3 p.m.
Live music will be available at a few Redcliff venues, with Kmagyoyo at Who's on Third's Whoosapalooza, Band of Brothers at the Redcliff Hylton and the Cannonball Knights at the Legion.
"This year we are happy that volunteers stepped up to host a couple of youth basketball tournaments on the new court in Memorial Park, as well, the Redcliff Youth Centre and Redcliff Minor Hockey are co-ordinating a street hockey event on Sunday," said Spampinato.
"These events are volunteer co-ordinated; we are always open to supporting volunteer run events during Redcliff Days."
Officials are happy the event returned this year after COVID derailed 2020's festivities.
"We are happy that the decision to move Redcliff Days to the end of summer worked out," she said.
"Normally, Redcliff Days is scheduled for Father's Day weekend, but because of COVID restrictions, the event would have been cancelled at that time. The last weekend of summer is a great way to celebrate Redcliff and the great summer we've had, and to send kids off to school.
"We will return to celebrating Redcliff Days on Father's Day weekend going forward."