Westfield Project celebrates 25 years of contributing to CFB
Posted on August 25, 2021 by 40 Mile Commentator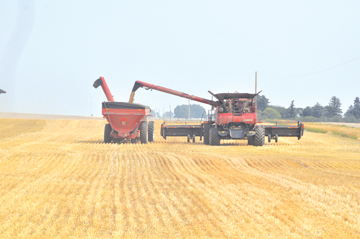 Commentator/Courier Photos by Justin Seward Westfield Project harvested 23 bushels per acre of barley for the Canadian Foodgrains Bank on Aug. 14.
By Justin Seward
Commentator/Courier
County of Forty Mile's Westfield Project celebrated 25 years of its harvest for the Canadian Food Grains Bank on Aug. 14.
The harvest is meant to help CFB with tackling worldwide hunger.
"Success for this, I would say is the faithfulness on the part of the community and definitely on God's part," said Deiryk Schussler, Westfield Project manager.
"Without him in this, this is our Christian way of helping people (and) we provide money so they can use those gifts to fund farming projects around the world. So, this is our way of giving back."
Schussler said all things considered with the little rain they had, the conditions looked quite well in the field.
"We're going to be blessed with what we get off here and hopefully it's enough to help the project along," said Schussler.
The resilient heat wave hurt the yields this year.
The harvest brought in 23 bushels per acre, which was well below the average of the 50 to 60 mark.
The Project had two parts this year with the original 160-acre barley site on the corner of Highway 879 and Township Road 80 and the addition of the donated quarter section of durum  east of Bow Island.
"We had another community member approach us and asked if we would like more land donated and I said 'Yes,'" he said.
The second site was scheduled to be harvested Thursday.
CFB Alberta regional representative Ary Vreeken said this years' harvests have varied.
"In the south, we've had quite a bit of draught, especially the dryland crops seem to be fairly light," said Vreeken.
"The irrigated crops are doing pretty good. I was out at another project and it had irrigated crops and they had about 120 bushels an acre and in Medicine Hat, where I was the week before, they had 25. Then there's the mid-belt, recently they've had more rain and in some of those places—the crops actually look pretty good. Then in the north, I think they're also a little bit behind."
Vreeken thinks it's "unfathomable" for the Westfield Project to reach 25 years.
"It's just hard to comprehend really because I've been on the other side," said Vreeken.
"So, I have in my head the farmer who goes with a little sickle and cuts his crop by hand. I see that this (is) going to help guys like that and then for people to do this for 25 years, the word that comes to me is faithfulness. These guys are faithful, they're doing this, they're showing up and this is what you get in rural areas. Farmers tend to show up for each other. If one farmer has a tough time, others will show up for them."
Vreeken added, "You can say in the cities particularly, we're losing that sense of community quickly sometimes. But in places such as this, in smaller towns such as rural Alberta, that community spirit is still there."
Five combines, one grain cart and three semi-trucks were on hand for the 2021 event.
Proceeds from the event were split between paying some farming bills and the rest went to  CFB
"It won't be a record breaker," said Schussler.