Blues at the Bow ecstatic to see music played again
Posted on September 1, 2021 by 40 Mile Commentator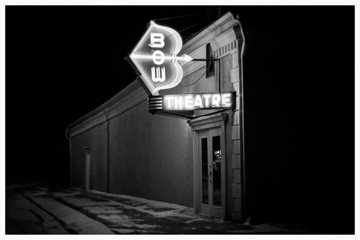 Blues at the Bow website photo
By Justin Seward
Commentator/Courier
For the first time in 18 months, the Blues at the Bow had a live performance on Friday night from Kenny "Blues Boss" Wayne.
"It (was) fantastic, that what it's going to be," said Jason Riddell, Blues at the Bow president.
"We want to do what we do and that's put on live music—live Blues. We're excited."
Susan Foley was booked and had to cancel her tour recently due to be in close contact with someone with COVID-19 and that is when Wayne stepped in.
There will be only a minor change in operations as the theatre will not be selling memberships off the hop and rather go on a show-by show basis.
"We're still not out of the woods," he said.
"We'd like to think COVID, the name we won't mention is gone, but it's not unfortunately."
The committee was  trying to plan shows during the COVID-19 pandemic with ideas such as half-capacity crowds.
"The financials weren't there for us to do it and it was 'Would anybody come when you're half locked down," he said.
"Especially for us—we're all volunteers and we run on grants. We don't have a lot of money. We tried but couldn't make anything work and when they opened it up, we got in contact with our booking agent and he was thinking the same thing."
Riddell described being closed as a "rough" experience.
"We had a little bit of nest egg from the 26 years we've been doing it and a few grants that kept us afloat and we made it, just," he said.
The plan is to go back to a normal amount of shows in 2022.
"In the new year, we're going to start full bore," he said.
"Start booking for the whole season and sell memberships."
After Wayne's performance, the postponed sold-out Colin James show from March 2020 will be on Nov.23 and a second show on Nov. 24.
Tickets will go on sale for the second show Oct. 1.