Hot summer causing a surge in local grasshopper population
Posted on September 1, 2021 by 40 Mile Commentator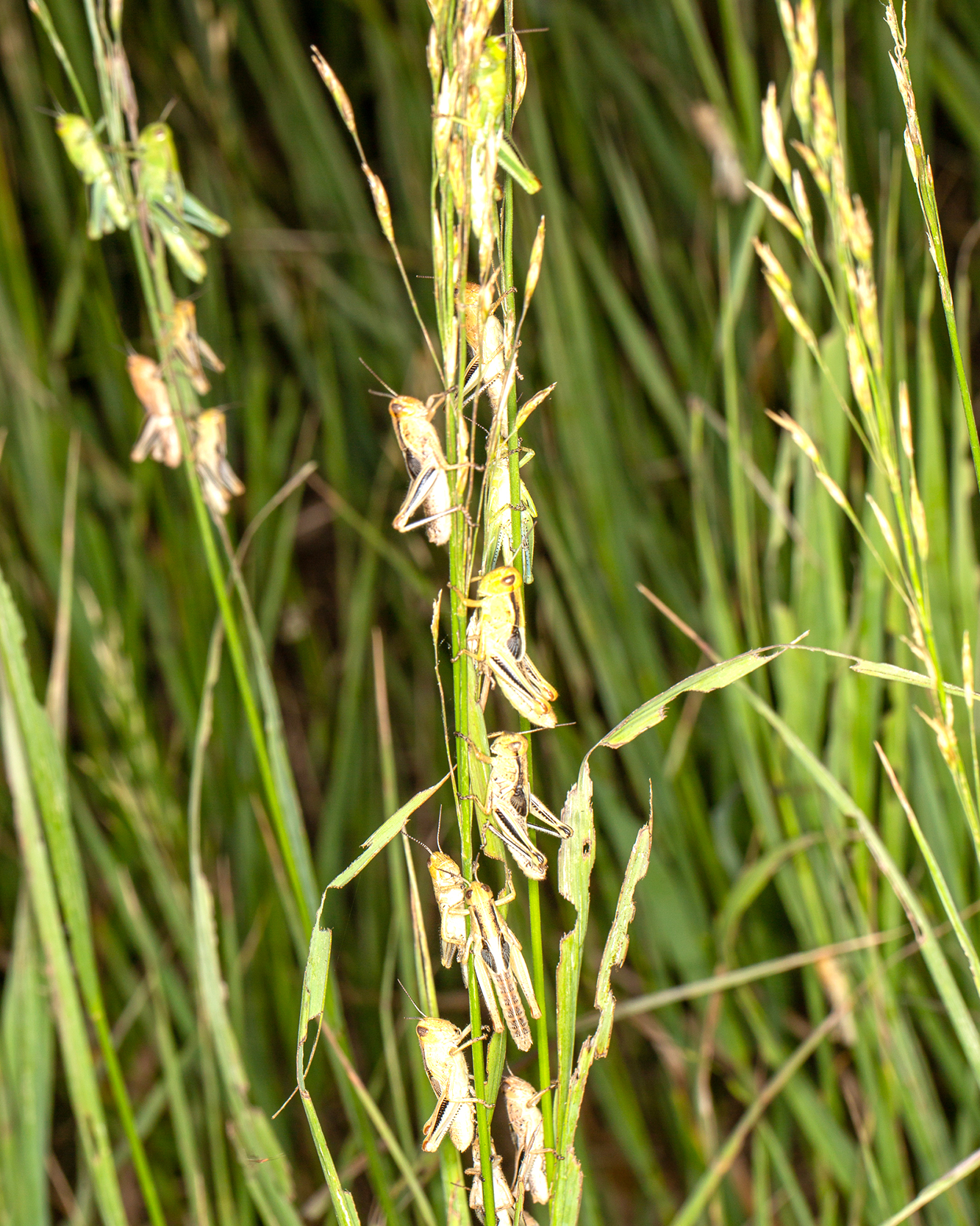 Photo submitted by Dan Johnson Two-striped grasshoppers are seen hanging on a plant in the County of Forty Mile ditches.
By Justin Seward
Commentator/Courier
Southern Alberta has been experiencing a hot dry summer in 2021, resulting in an increase the grasshopper population.
According to alberta.ca, "This is especially true in the M.D. of Acadia, Vulcan, Willow Creek, Lethbridge, Cardston, and Forty Mile counties. The grasshopper species found in southern Alberta are a blend of Melanoplus bivitattus, M. packardi, M. sanguinipes and Camnula pellucida. The rest of the province shows light to no grasshopper populations."
The map indicates that a portion of the southern could have moderate to severe risk if the condition favour grasshopper hatching and development through late May and into June.
"Localized factors such as light soils or south-facing slopes result in an elevated risk of grasshopper infestations,'" as read on alberta.ca.
Dan Johnson is with the Geography and Environment faculty at the University of Lethbridge and has done grasshopper projects in Forty Mile county since 1983.
"Last summer, and this year beginning in June, there were small, focused spots where the two-striped grasshopper was in roadsides in very high numbers," said Johnson.
"More than 10 per square meter is a possible concern and I saw spots with 100 per square meter. When they were older, they mainly stayed in the roadsides, fortunately."
Johnson thinks this year the average is not the issue, but that of variability.
"Hopefully, the small, focused infestations are not an indicator that a much larger area will have them if the warm spring and summer continues."
While the survey is handled by the fieldmen and the forecast is handled by the province's Agriculture and Forestry sector, Johnson does not anticipate the current high-grasshopper population municipalities to be on that radar again in 2022.
However, there is a chance those municipalities could see an expansion of the smaller intense infestations that see the grasshoppers run into fields if the roadside was dried up or cut at the right time.
"There is a distinction between the crop grasshoppers such as two-striped grasshopper, lesser migratory grasshopper, and Packard's grasshopper, versus the rangeland species—which are low not and do not feed on crops," said Johnson.
"The current major roadside pest in Forty Mile is scattered hotspots of the two-striped grasshopper."
Johnson cautions farmers not to spray too soon in order to prevent grasshoppers from flourishing in the hot conditions.
"One method that has always been useful has been to leave a strip of green vegetation here and there to spray, to stop them on a narrow zone rather than treat a crop," he said.
Local grasshopper populations will continue to thrive in the dry spring and summer seasons and manage to escape their natural enemies in the first year.
Johnson said natural enemies like flies, beetles and grasshopper pathogens will catch up and take the peak off.
If the region sees a revert in weather patterns, the population will crash.
"In the south, an outbreak pattern is usually two to four years, but rain can bring it down," he said.
Johnson added, "There are spots you could walk through in Forty Mile in 2021 that would make one think the grasshoppers were all absent, and other spots that looked as bad as it has ever been. So, there is likely some confusion this summer and next because the populations are very uneven."