New Western Tractor dealership on schedule
Posted on September 1, 2021 by 40 Mile Commentator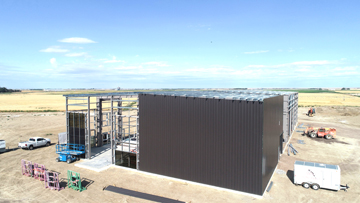 Crews were working on putting the structure up of the new County of Forty Mile Western Tractor dealership recently.
by Justin Seward
Commentator/Courier
The new Western Tractor dealership in the County of Forty Mile broke ground in the spring and is one-third of the way completed, with a projection of being  fully constructed by November.
Western Tractor president Steven Dyck said the structure is up, and workers are almost done grinding the floor in the showroom.
'It's pretty wet right now, unfortunately," said Dyck.
"But everything is pretty much standing and will have the block wall, which separates the front from the back of the shop starting to go up. And most of the tin and roofing is in motion right now. We've got our dugouts built and liners going in and getting the pump ready to go."
Dyck said overall, Western Tractor is feeling pretty good about the progress.
The John Deere dealer made sure to order pieces early to avoid the challenges of delays.
"Everything seems to be on a delayed delivery schedule right now," he said.
"But we've been pretty lucky and we've been working very closely with our builder out there, and Jayco Builders has been doing a great job. We're pretty happy with where things are at the moment."
Construction completion is at the 30 to 35 percent mark, but will speed up in the lock-up phase where that will allow more of the sub-trades to move in.
"That place will turn into a buzzing beehive and you'll see (a) lot of different sub-trades in there doing what they need to do," he said.
A collaboration effort was carried out between Western Tractor, County of Forty Mile and surrounding businesses in the community to install a fibre line.
"That's going provide dedicated fibre to all of businesses that signed on to that as a part of it," said Dyck.
"That's fabulous for us because we rely so heavily on some fairly data driven business systems that eat a lot of bandwidth. It's been a bit challenge out in that Burdett area in particular to get proper data and proper internet at the speed we need to operate at."
Dyck said Western Tractor is excited to be moving into a facility that is going to open up the opportunity for growth.
"We feel like we're putting down some roots and hopefully our community can support it," he said.
The new dealership will replace the existing Burdett location and increases shop and parts space by 50 percent while the yard space will double in size and all operations will be under one roof.
The new 22,000 square foot state-of-the-art facility will be at the corner of Highway 879 and Highway 3.