Pythons itching for game action
Posted on September 1, 2021 by 40 Mile Commentator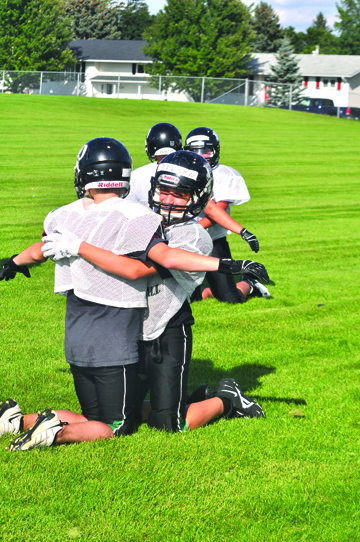 Commentator/Courier Photo by Justin Seward Parkside Pythons' Dawson Gantry engages in a tackling drills at training camp on Aug. 25.
By Justin Seward
Commentator/Courier
The Parkside School Pythons bantam football team hit the gridiron last week for the first time since winning the 2019 league champion.
There were three returning players at training camp at Crescent Heights High School and the rest of the roster is new to the team.
Key positions such as running back, quarterback and linemen are all up for grabs.
"It's awesome," said head coach Nathan Kobley.
"I've looked forward to it, I've missed it. This is new for me, getting a brand-new group of kids I've never coached before— so it's awesome."
Kobley credits the players for motivating themselves after a lengthy time away from the field.
"They are so geared up and ready to go," said Kobley.
"(And) missing it for a year-and-a-half, these kids are fired up and ready to go and get going. It's more me holding them back right now then getting them going."
The goal of training camp was to get back to basics such as teaching the players proper stances, tackling and building the team as time goes on.
"They find out positions they're good at, and start running the plays, and then we'll go from there," said Kobley.
Kobley knows of four players that have set positions because they played those positions before.
Kobley's goal this season is for the players to perform and maintain competitiveness.
"I don't care if we lose every game, but I want them to progressively get better," he said.
The roster is comprised of Redcliff's Parkside School, Irvine and Crescent Heights junior high players.
The season will look as it did before COVID and as it stands the Pythons will play every Thursday night beginning in mid-September.