Students in Prairie Rose Public Schools back to class
Posted on September 1, 2021 by 40 Mile Commentator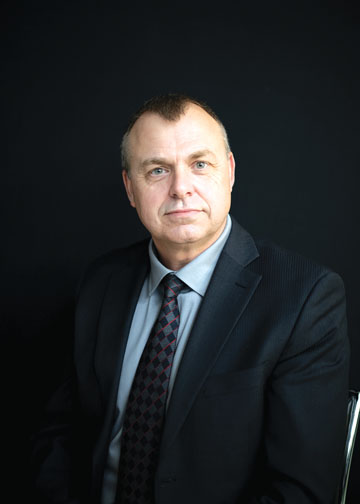 Photo Submitted PRPS superintendent Roger Clarke
By Justin Seward
Commentator/Courier
Aug. 30  saw the return of students to classes within  Prairie Rose Public Schools. With Phase 3 of the Alberta relaunch well underway, there are some changes for the 2021-22 school year compared to last year.
The only mandate coming down from the Alberta Government is Public Health Order 34-2021, stating all passengers on school buses must wear a face mask. This order will be reviewed on Sept. 27.
Inside school property, students and staff are not required to wear face coverings, although they will not be discouraged from doing so if they wish.
A welcome back video, along with a re-Entry plan document, were released in mid-August from the Superintendent of Schools, Roger Clarke. All parents and staff were encouraged to submit an online feedback survey and a second video was released answering the seven most frequently asked questions.
Clarke said, "We are very happy with the response to the survey. A high percentage are happy with the re-entry plan, but we did get some who said they would like to see greater restrictions."
This year, the response to any COVID cases within schools throughout the Prairie Rose area will be on a case-by-case basis.
"As we get COVID cases we are going to do our best to figure out who the close contacts are as Alberta Health Services is not going to help us with the COVID tracking this year," explained Clarke.
Scott Angle, principal at Senator Gershaw, is optimistic.
"I do not have any specific concerns returning to school," said Angle.
" Bow Island Elementary and Senator Gershaw School had minimal impact from COVID over the last 18 months and I expect that to continue throughout this school year."
Having students return to class excited about the start of school is something both Clarke and Angle are looking forward to.
Clarke elaborated, "We are looking forward to getting back to school to what will be near normal. We are very proud of the fact that we've been able to maintain a high level of instruction with the pandemic. I'm interested in seeing kids get back to activities they haven't been able to do for over a year in terms of extra-curricular activities"
Angle is, "Looking forward to seeing students walk through our doors excited for the first day of school. We are also excited about the new art academy offered in Prairie Rose schools, returning to regular extra-curricular activities, and expanding our greenhouse/agriculture program."
All extra-curricular activities, including tournaments and games, will be available to students this year.
"Students will have the opportunities to experience more outside our school walls including field trips and utilizing community facilities," Angle stated.
Angle further elaborated that, "Schools come to life when students are in them. The positives are the daily social interactions and connections that students experience with peers and adults. The school system is so much more than teaching curriculum material that students do not experience the same way through screens, having students consistently at school in person will have great benefits to both students and staff."
New programs that have been introduced in Prairie Rose were not able to get fully off the ground due to COVID, including an under-18 boys and girls hockey academy.  A partnership was also established between Prairie Rose Public Schools, Medicine Hat Public Schools and Medicine Hat College to operate their outreach schools on the college campus, but with COVID the students weren't allowed on the campus.
"We are looking forward to seeing how those programs and opportunities for kids continue to develop post-COVID and we are excited about those things. Getting back to things students love to do," said Clarke.
Another change this year is that September and October will be the final two months for Clarke as superintendent of schools as he is retiring and Dr. Reagan Weeks, currently deputy superintendent, will be taking over effective Nov. 1.
"We are pretty excited as she has done a fantastic job for Prairie Rose Public Schools. The transition is very important over the next two months. Trustee elections are coming in October, which is part of the reason I selected the end of October as a retirement date so that the new superintendent can come onboard with the new board of trustees. I just thought it was a good natural fit," said Clarke.