Adversity turns to gold for Norcrest
Posted on September 7, 2021 by 40 Mile Commentator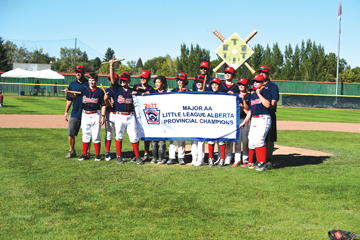 Commentator/courier submitted Norcrest Little League captured the Little League Alberta Major AA Provincial Championship Sunday afternoon at Canola Harvest Field. The Norcrest crew is (front row, left to right): Finn Nowlin, Roan Bosch, Braeden Gaskell, Cole Klippenstein, Max Probe, Foster Weatherhead, Ryley Jensen, Brody Kornelson, Solomon Olson. Back row: Asst. coach Robin Gaskell, Dakota Hurst, Junior Sun, Asst. Coach Josh Nowlin, Randon Lauwen, head coach James Olson. Not pictured: managers Derrick and Carin Jensen
By Dale Woodard
Southern Alberta Newspapers
A little bit of adversity ultimately turned into a provincial championship for Norcrest Little League.
The Norcrest squad made up of players from Lethbridge and southern Alberta, —including Bow Island's Foster Weatherhead and teammate Roan Bosch from the Foremost Flyers majors baseball team—defeated the Lethbridge Little League Major AA All Stars 6-3 in the gold medal game of the Little League Alberta Major AA Championship on Aug. 29. at Canola Harvest Field for their first Alberta title since 2015.
As it turned out, the gut check Norcrest was handed in their semifinal win over Medicine Hat ultimately spilled over into the gold medal game as the locals rallied from a 3-0 deficit to post the win thanks to a big fourth inning.
"I told the guys that's why we were able to finish out the final, because of the adversity we faced in the semifinal," said Norcrest head coach James Olson of his team's 9-8 walkoff win over Medicine Hat after they gave up an 8-3 lead.
In the final against Lethbridge, a little adversity showed up once again early in the game.
"We started off bad and that's where the adversity we faced helped us out," said Olson. "We came out and our starting pitcher (Randon Lauwen), right off the bat, gets a pop-out and a ball that our shortstop normally catches. So we had a rough start to the game. We ended up giving up three runs in the first inning.
"We had a rough start, but we were able to settle ourselves down because we already went through those nerve wracking parts in the semifinal. After that, we settled in and we got that nervous energy out and a lot of was attributed to what we faced in the semifinal."
Lauwen went five and two-thirds innings on the hill for Norcrest in the gold medal game.
"Randon threw well and kind of held us in the game until our bats could get going," said Olson. "We got one run in the third, which kind of got us going and then we had that big inning in the fourth, which really got them going."
But it was their semifinal win over Medicine Hat that set the table for Norcrest.
"Our starting pitcher (Solomon Olson) in that game threw a gem and into the sixth inning he was still going," said Olson.
But a couple unlucky breaks allowed Medicine Hat to get right back into the game.
"We were going into the top of the sixth with an 8-3 score and our starting pitcher, third time through the lineup, had been wheeling and dealing, but left one hanging and gave up a three-run shot," said Olson. "So all of a sudden it's an 8-6 game. That was the last batter he faced and then another guy comes in to try and get the save."
With the score tied Lethbridge headed to the bottom of the sixth looking for the walkoff.
"It worked out that our leadoff hitter had a four-pitch walk and got a passed ball to get him over to second," said Olson. "It just happened our starting pitcher who we had to pull was the second batter of the inning and hit a fielder's choice to third base. They threw the ball away trying to get him out at third and that's how they were able to walk it off."
Playing a little comeback ball has been commonplace for Norcrest this year, said Olson.
"The way we played all season was we were never out of a game. There was one game we were down 7-0 and we came back. We ended up losing, but it was 12-10. The last game we lost to Lethbridge they got out to a 7-0 lead and the final score was 7-6. We're a feisty team and we're never out of a game."
Lethbridge head coach Duane Kambeitz tipped his hat to both teams in the all-southern Alberta final.
"It was fantastic. That's a really good team. We battled with them."
Chinook West were the official hosts of last weekend's provincials, but Kambeitz said his team enjoyed their first chance to play at home this summer.
"They loved it because we've been on the road all year and this is the first we've been at home," he said. "So playing in front of our friends and family here has been awesome and playing at Canola is always fantastic. Having been on the road all season and having seen other facilities, I think the stuff we have in Lethbridge is the best."
Lethbridge Little League third baseman and pitcher Justin McKay, 12, welcomed the chance to play at Canola Harvest Field.
"I know this field from the middle of spring all the way through the summer," said the third baseman and pitcher. "We don't usually get an opportunity to play on this field. But with Chinook hosting they had the opportunity to bring it here and we were really happy about that. This field is probably the best one we have in Lethbridge. It's probably the best within us, Calgary and Edmonton, the ones we've played at."
As one of the 12-year-olds moving on next year, McKay acknowledged he had played his last game at Canola Harvest Field.
"It feels a bit sad," he said.
With the House League season starting in at the beginning of July, Olson said the Norcrest roster came together at the end of July.
The team features players from Lethbridge, Coaldale, Taber, Milk River, Bow Island and Foremost.
"We started off in the long weekend of August with four exhibition (games)," he said. "We have players coming from all over a big range. We had those exhibition games to see where everybody would fit and how this was going to work out and we learned a lot in that first weekend. That was a key to our season, getting those exhibitions in. We were able to see how the pieces were going to fit off those four games and how we could use the players so that everyone was seeing success on the team."
In  the Aug. 31 Herald, Norcrest was incorrectly listed as being from Calgary.
The Herald aplogizes for the error.