Bow Island Minor Hockey back on the ice next month
Posted on September 7, 2021 by 40 Mile Commentator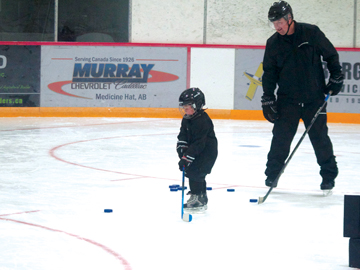 Commentator/Courier File Photo
By Samantha Johnson
Commentator/Courier Freelancer
October will see Bow Island Minor Hockey (BIMH) start up again after last season where not much happened, with the teams managing to practice for a couple of months and only playing a handful of games each with no audience.
Ice will go down in the beginning of October and the players will be practicing very soon after that.
Jeremy Mitchell, BIMH President, said, "We've had a good number of registrations and have a pretty good idea how many kids we have on each team."
Looking forward to the coming season, "It's great to get the kids active again. In my opinion COVID was hardest on the kids, missing the camaraderie and the physical activity," commented Mitchell.
Continuing on, Mitchell said at the moment, "We are planning on fielding as many teams as we can. We've been working really hard and have had lots of interest for our younger teams."
For the beginning of the 2021/22 season the challenge for Mitchell is, "figuring out how operations will work again. Everything should be back to almost normal but once again that is day to day. Trying to hurry up and get all our teams made and our ice booked with our Central Alberta Hockey League (CAHL), get all our teams playing in CAHL, just trying to get everything ready for the season."
Whether due to COVID or some other reason, but at the moment numbers are down for registration in the older teams. "That's why we are working closely with our neighbouring communities. We've had a great response from the community and have 15 skaters on the U7 team. For some of the older age groups we are having trouble filling those teams, but those are the teams we are working closely with our neighbouring communities to fill, Redcliff, Foremost and Medicine Hat. It's a fairly complicated process," explained Mitchell.
The regular season, providing there are no changes with COVID restrictions, will run from November right through to the end of February or early March 2022. "There will be three or for preliminary games in October within CAHL. Each team will play in those preliminary game and how well we do there will determine which tier we end up being in," said Mitchell. The better a team preforms, the higher the tier they will be placed in.
Overall, Mitchell and the board are, "looking forward to having the kids back on the ice and looking forward to hopefully having no restrictions for the coming season and get back to as normal as we can and play hockey again."
For further information, or to register your child, go to bowislandminorhockey.ca.