Foremost Historical Society to host grand opening Sept. 12
Posted on September 7, 2021 by 40 Mile Commentator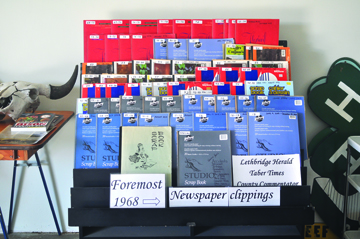 Clippings of Foremost can be viewed all the way back to 1968.
By Justin Seward
Commentator/Courier
After purchasing an old home beside the tourist booth last November, doing some renovations and obtaining various items that resemble the village's history, the Foremost Historical Society are set to host a grand opening on Sept. 12.
"We're celebrating what the Historical Society has accomplished so far and we're looking ahead to improvements and additions to the collections of artifacts," said Daphne Johnson, Historical Society president.
Johnson said, "For some people it'll be a trip down memory lane as they see things they recognize."
The grand opening was delayed due to COVID, but the Historical Society felt fortunate to have the building open in July and August thanks to the tourist booth.
The Historical Society tries to plan an event each year on Grandparents Day, which lands on Sept. 12 this year.
"We want to remind young and old people how important it is to spend time together," she said.
The open-house style grand opening on Sunday will be from 1 p.m. to 4 p.m. and includes a short program at 2 p.m. with stories told by long-time residents, refreshments will be available and will give attendees the opportunity to socialize and look at the displays.
"We also need more details about some of the things that are already donated," said Johnson.
"For example, the musical instruments or musical items. We know too that the community still has many historic items in their basements, sheds or garages that can be on display."
The Society plans  to expand their promotional events in the future to host school tours.
The Historical Society meets on the second Wednesday of every month at 2 p.m. and are looking for more members and volunteers.
People can contact Johnson at (403) 867-3957 for more information on the Historical Society.