Maverick Party looks to bring western Canadian voice to Ottawa
Posted on September 7, 2021 by 40 Mile Commentator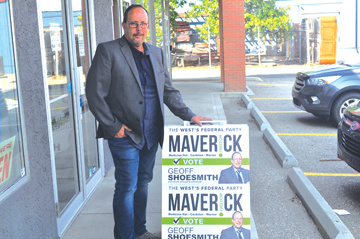 Commentator/Courier Photo by Justin Seward Maverick Party candidate Geoff Shoesmith would like to see more equalization come to western Canada if the party were to get elected on Sept. 20.
By Justin Seward
Commentator/Courier
The western Canadian-based Maverick Party formed in June 2020 and the party's focus is to represent the west in Ottawa.
The party wants to achieve greater fairness and self-determination through constitutional change or the creation of an independent nation and achieved through the Party's Twin-track approach.
The Track A approach includes constitutional change through the public release of constitutional amendments, federal election of MPs and a referendum in all western provinces to accept amendments.
Track B proposes the creation of a Western Nation and the process would see established Economic Development Alliances, federal election of Maverick MPs and a referendum in all western provinces on secession.
"These will be conducted concurrently as well build towards greater autonomy," as stated on the party's website.
"We want go to Ottawa and we want to negotiate five constitutional changes," said Geoff Shoesmith, Medicine Hat-Cardston-Warner Maverick Party candidate.
"Equalization—first and foremost, resource corridors, the important things to western Canada. And with that, we would like success there. If we don't have any success then we would use our second tier, where we would look at trying to have some independence in either Canada or outside of Canada, which would be our primary objective. We want fair treatment for the west."
A challenge western Canada faces is equalization, which Shoesmith put in the perspective with the fact that this part of the country is putting 80 to 85 percent of the revenue into Canada and not seeing the equalization.
"We felt abandoned by the Conservative Party of Canada," said Shoesmith.
"They want the carbon tax—all the things they wanted to campaign against. Now this last year and a half, in order to get votes in Ontario and Quebec, they're accepting this and it's not acceptable to us,"
The Maverick Party would focus on gun control.
"Even myself, we're 45 minutes from the nearest police station," said Shoesmith.
"We have a right to have decent gun control laws. It's got to be more in tuned with what's going on here. To me, they can make that more of a regional thing—have rules for cities as well as for in the rural areas."
Carbon tax would be high on the Party's list.
"People have a 50-minute drive to the local grocery store—it's not fair," he said.
"We've got heat our homes. This is Canada, we shouldn't be penalized for what we have to do to heat our homes in the winter time, number one"
Resource respect and working with companies to attract investment as well as economic development is also included their platform.
The Party will try and advocate for the re-evaluation for seniors and veterans and making sure they're looked after.
The Maverick Party would take issues on a case-by-case basis to benefit western Canada and if not, there will be votes against.
"We want to represent western Canada, the way the Bloc Quebecois represents Quebec," said the Walsh Tempo Gas Bar owner
Shoesmith's constituency office is located in Medicine Hat at 108- 1310 Kingsway Avenue.
Hours are from 11 a.m. to 4 p.m. Tuesday to Friday.
The office can be contact at (403) 979-2062.