Baedke crowned 2021 Little Britches Sweetheart
Posted on September 13, 2021 by 40 Mile Commentator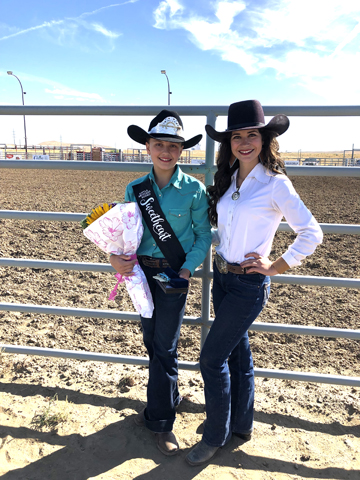 Commentator/Courier Photo by Samantha Johnson 2021 Little Britches Sweetheart Emma Baedke with 2018 winner Tenley Warburton.
By Samantha Johnson
Commentator/Courier Freeelancer
Emma Baedke was the winner of the 2021 Little Britches Sweetheart competition Sept. 4 at the Dunmore Equestrian Centre.
"I feel very excited. A little bit overwhelmed from winning it," said Baedke. "I want to be a good role model, make people smile, go to different events and ride my horse."
Right after winning, Baedke told the crowd she was not prepared to win but wanted to wish "a good year to all the contestants and thank my parents for putting up with me."
Baedke attends Grade 8 at Seven Persons School and is an active person. She is in her fifth year with Saddles and Spurs 4-H, enjoys riding in the tractor with her dad, barrel racing and show jumping. This past summer she was pleased to complete a three-foot jump.
Baedke also enjoys competitive dance, which she has been doing for 11 years.
"I take jazz, tap, lyrical, ballet. I do two solos, a duet and a special project. I really love jazz, the upbeat to it and my jazz teacher and I have so much fun together," she said.
The contest is open to all girls 12 years and under as of Jan.1.
Winning the competition was a nice birthday surprise for Baedke, who turned 13 the same day. The other contestants were Ridley Fisher, Aidyn Martens, Addison Place and Callie Martens.
On the Friday night, the five contestants showed off their public speaking and fashion modelling skills. Baedke did a speech on the growth and development of horse teeth along with problems that can occur, and the importance of regular vet and dental checkups. On the Saturday was horsemanship and the crowning.
Karley Appell, winner of the 2019 Sweetheart contest, was unable to be there, so Tenley Warburton, the 2018 winner, was there to hand over the sash and belt buckle.
"I'm so thankful for this opportunity," said Warburton. "I know Karley really wanted to be here. It's just amazing to see the girls' reactions and how happy they are while watching their journeys unfold. I know that each of the contestants has their own path and I'm really excited for Emma's."
Haley Schlenker, organizer of the event, said, "We want to give the girls an opportunity to represent the Dunmore Equestrian Centre, the sport of rodeo and the western way of life."
Schlenker, a registered nurse and member of a fourth generation farming and ranching family, got involved in the competition following her 2018 crowing as the Medicine Hat Exhibition & Stampede Queen. Her friend, Brittney Chomistek, started the event after her queening in 2016 and brought Schlenker in as a judge. Due to time constraints, Chomistek asked Schlenker to take over organization of the event in 2019.
"I feel good about how the event went this year and I'm hoping we can keep this event going," said Schlenker.