County council presented with Verge Economic Development's future plans
Posted on September 13, 2021 by 40 Mile Commentator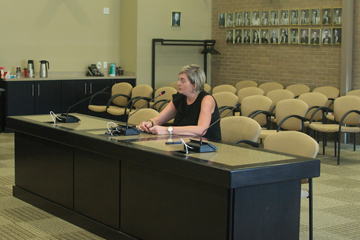 Commentator/Courier File Verge Economic Development executive director Theresa Hardiker
By Justin Seward
Commentator/Courier
Verge Economic Development executive director Theresa Hardiker visited with Cypress County council on Sept. 9 to give an update on future projects the EDA is working on.
One of the projects Verge identified through the BREWD project—which is meant to foster a more competitive business environment that provides the support system they need to grow and succeed— is the development of better tools to create a tool kit for local business attraction.
"We needed to have a better way of doing attraction, not only on a labour standpoint, but for industry to come into the area," said Hardiker.
"One of the things I have been working through is developing better tools that could become a  part of a tool kit that we would be able to give to not only families, workers or labourers that are coming into the area, but also for investment attraction."
The  tool kit includes info graphs and dashboards that are available on Verge's stakeholder websites.
The second piece is a labour attraction where a flipbook is being developed that pertains to the quality of life in the southeast region.
Thirdly, videos have been made and will be released to each stakeholder including Cypress County, County of Forty Mile and the Town of Bow Island's websites.
"It gives a snapshot of what's available  and what's  here already within the southeast region of our area," said Hardiker .
"Then it also gives us the opportunity to maybe identify some gaps and opportunities for small businesses, families and large investments to be able to come into the area."
An innovative  video series  are in conjunction with APEX Alberta and is highlighting three businesses in Cypress County so far including T.R.A.D Worm Industries, Action Land and Neubauer Farms.
Hardiker has also been working on a Welcome Communities project.
"Again, we're just trying to take an opportunity to have a transparency piece, an arm's length or a view of what is happening in Cypress County and then of course the other two stakeholders as well," she said.
"As a collaborative effort, we're going to have outsiders, businesses—what are some of the tripping points if we're trying to attract people that are coming to the area? Where's the opportunities for us to be able to bring in or improve some of our systems, living accommodations, some of the things that were possibly missing."
She has been working with the Government of Alberta on site selection criteria for different investors looking to come to the area.
Council briefs
Suffield Community Hall reopening
Council approved the request  to provide sponsorship and funding up to $2,000 for the Suffield Community Hall Reopening event on Sept.18.
There will be a free Movie in the Park and barbecue beginning at 7 p.m. as a part of celebration of  the Hamlet's new playground.
Tax penalties
Cypress County council voted to cancels  2020 tax penalties for two oil and gas companies.
The tax penalties in the amount of $644,274.44 was waived for Canlin Resource Partnership
and $96,352.20 for Pinecliff Energy.
"They entered into an agreement for the TIPP (Tax Installment Payment Plan) Program. They have followed the criteria in the agreement. So, a part of the agreement was for the 2020 tax penalty would be brought back to you (council) to be written off," said Tarolyn Aaserud, Cypress County's chief administrative officer.
Aaserud said administration will share that is strongly encouraged to stay on the TIPP program and if they do not enter the program and honour that and they have a penalty they wish to write off, the companies may not be as successful next time.