Eagle Butte High battling COVID-19 outbreak
Posted on September 13, 2021 by 40 Mile Commentator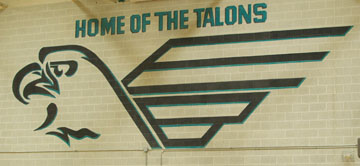 By James Tubb,
Southern Alberta Newspapers
Eagle Butte High School is now facing 22 reported active cases of COVID-19 since the start of the school year.
The school in Dunmore originally notified parents, via its website on Sept. 2, of two confirmed cases. One day later, it informed parents of 10 new cases, bringing the number to 12. Five days later, Sept. 7, the school again posted on its website regarding new cases, adding nine to reach a new total of 21. With another case reported Wednesday, there are now 22 associated with Eagle Butte High.
Angela Baron, communications officer of Prairie Rose School Division, said in an interview Wednesday that all cases at Eagle Butte are currently among students and were not spread within the school.
"It is our understanding that these (cases) are a part of community spread. We are not aware at this point of any transmission that happened in the school based on the timeline for when we are hearing people have symptoms," Baron said.
There are a total of 38 classes where staff and students could be considered to have had close contact with a positive student. This list of classes is posted on Eagle Butte High's website. Three other schools in the Prairie Rose Public Schools division also have cases of COVID-19 associated with them.
Irvine School has 10 confirmed cases and Redcliff's Parkside School and I.F. Cox School each have one confirmed case as of Sept. 8.
Baron says Prairie Rose Public Schools is one of the only boards that have publicly notified parents of COVID-19 cases associated with their kids' schools.
On Wednesday, Medicine Hat Public School superintendent Mark Davidson released a division-wide statement saying they had been made aware of positive COVID-19 cases in all MHPSD schools.
The statement also said Alberta Health Services is no longer monitoring positive COVID-19 cases in schools and they are also no longer notifying schools when a positive case is connected to it.
The statement also said AHS is no longer contact tracing and students are not required to quarantine if there is a case of COVID-19 at their school, even if that case is in their classroom.
When asked about schools telling their students what they should/shouldn't do on their free time in respect to COVID, Baron said it's up to the province to decide what to do.
"We can't say anything, the province is in the best position to put in guidelines and they've (done) what they think they need to do and there's where we are now," Baron said.