Reimer looks to advocate for a community centre in Redcliff
Posted on September 13, 2021 by 40 Mile Commentator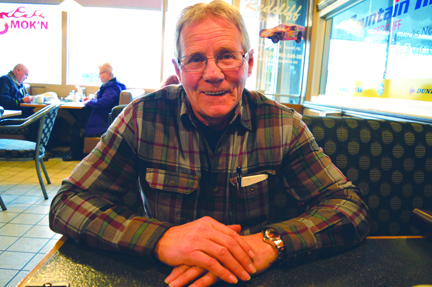 Commentator/Courier File Photo Ernie Reimer will look to claim back the mayor's chair in Redcliff in October.
By Justin Seward
Commentator/Courier
Redcliff mayoral candidate Ernie Reimer will look to take back the mayor's chair in Redcliff in October's municipal election after being ousted by Dwight Kilpatrick in 2017.
Reimer sat on Redcliff town council for seven years prior to the 2017 municipal election, including one term as mayor.
"I thought I'd come back and give it another go and let the chips fall where they may and we're going to do our best to be successful," said Reimer.
Reimer decided to run again because he wants to see some projects completed in the town.
"But (I) still had fire in the belly and wanted to give it another go for four years," he said.
"I certainly enjoyed my time as the mayor when I was mayor four years ago and there were some things that were left undone that I would like to go ahead (with) and if it's possible."
Reimer is involved with the community centre committee that is seeking to put a facility of its nature in the town and hopes to still advocate for if elected as mayor.
The community centre's vision is to have a facility that involves people of all ages from Redcliff.
"Once we get over this COVID a little bit, we plan on getting back together and having more discussions on how we can fundraise and make it happen for Redcliff," said Reimer.
A piece of property is being looked at by the golf course and preliminary discussion seeing the golf club, the curling club, potentially the library being tenants as well as having a play area for young children and hosting sporting events.
Reimer thinks the town has been quiet for a while and would like to see the community be put on the map by establishing relationships with surrounding municipalities.
"We will actually be asking our neighbours for some help in funding for this community centre for Redcliff," said Reimer
"It's important to have good solid relationships with your neighbours. That's something I would do a good job if I was the mayor."
He would like to look into the many stable properties on Ninth Avenue SE that are seeing an increased in value, according to Reimer.
"We need to be able to address that and see how we can sell those high-priced properties down there—they're commercial properties and big housing projects down there too," he said.
His hope is to see Ninth Avenue SE connect to Saamis Drive and see those sales increase of those properties with that exposure.
Reimer is forming a team to canvas the town—an option he did not do in the 2017 municipal election.
"I want to encourage people to get out and vote," said Reimer.
"That's their civic duty and their right to do that and get more people involved in the voting process."