Schreiber now enforcing traffic violations
Posted on September 13, 2021 by 40 Mile Commentator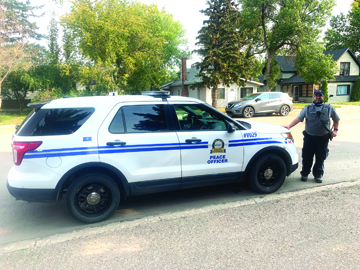 Commentator/Courier Photo by Justin Seward Jason Schreiber is now a qualified Level 1 Community Peace Officer for Bow Island.
By Justin Seward
Commentator/Courier
Town of Bow Island's bylaw officer Jason Schreiber added to list of duties in the summer, as he officially became a Level 1 Community Peace Officer in July.
Schreiber began his career at the town in 2012 as a bylaw enforcement officer before obtaining his Level 2 Community Peace Officer designation in 2014 and ultimately obtained his Level 1 CPO designation this year.
"Council's been amazingly supportive with this to my transition of a Level 1," said Schreiber.
"The Solicitor General for the province had a program called the CPO Transition training. So, for me to go from a Level 2 to a Level 1—because I had so many years' experience as a Level 2—they had a list of different courses I needed to take. So, traffic stop tactics, control tactics, different things like that."
Schreiber is now eligible to do more diverse traffic safety act contravention enforcement including speeding, speeding in school zones, failing to stop at a stop sign, seat belt violations,  distracted driving and noisy vehicles.
"It will allow me to be more proactive and be able to enforce different contraventions that I see during my daily duties of driving around," he said.
"I know there (have) been times in the past I have seen violations, but I wasn't able to pull them over and issue a violation ticket. Now I am able to do that. It will help out for sure with my authority to do such a thing—just to be able to keep the community safer and to educate the public on Traffic Safety Act rules and things they might not be aware of."
He will collaborate with the RCMP from time to time.
"If they're occupied with a call or busy doing some other calls or any other of their duties that are not in Bow Island at that point in time, I do routine patrols throughout the town," he said.
"If I see a violation, I am able to do a traffic stop and deal with that situation. It's just basically another set of eyes and ears for them and help them out with doing enforcement in the town."
Schreiber said it's going to be quite the change for the residents of Bow Island because they're not familiar with the Level 1 Peace Officer duties.
He will still be dealing with bylaw complaints on top of his new duties and maintaining his role as director of emergency management for the town.
"I wear a few hats, but I enjoy it," he said.
"Every day is a great, new challenge."
Questions about Schreiber's new duties can be answered by calling him at (403) 545-2522 ext. 106 or emailing bylaw@bowisland.com.