Troy Loney Charity Golf Classic a success
Posted on September 21, 2021 by 40 Mile Commentator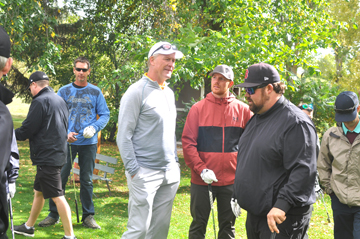 Commentator/Courier photo by Justin Seward Troy Loney mingles with other golfers in the Troy Loney Charity Golf Classic on Sept. 16 at the Bow Island Golf Club.
By Justin Seward
Commentator/Courier
There were 125 golfers that teed up for the Troy Loney Charity Golf Classic at the Bow Island Golf Club in support of the Kale Porteous Memorial Splash Park on Sept. 16.
Fun was had by all as it was an afternoon full entertainment on the golf course including a putting competition, $10,000 hole-in-ones were up for grabs, hitting the golf ball with a baseball bat and shades of Happy Gilmore were seen on one of the greens as participants had to putt with a hockey stick.
"The day's been great," said Loney, who always enjoys coming back to his hometown for the event.
"I should never be surprised the way community responds to things because they always do. But this year is definitely special and the way everyone has supported the Laidlaw and Porteous families has been tremendous and I'm just humbled to be a part of this."
This tournament was unique for Loney to come back to  because as young boy growing up in Bow Island, he worked on the Laidlaw ranch and had tremendous memories of being there and set a good foundation for him as a young man.
"To be able come back and celebrate the memory of a young man and hopefully helped a family with that memory is important for me," said the former Pittsburgh Penguin and Anaheim Mighty Duck.
"I can't emphasize enough about just the things I learned there, I've taken (in) my whole life with me."
Each of the Charity Golf Classics that Loney has hosted have had a different feeling to them.
"They're all different and they're all unfortunately tied to some kind of a tragedy the community has," he said.
"But at the same time, it's a need that the community has identified. The tragedy is  something nobody wants to happen but it happens and anytime you can tie into it something the area needs—those two combined together are good."
Garth Porteous and family could not be any more grateful to have the golf tournament support a memorial project in their son Kale's honour.
Kale Porteous passed away in 2018 in a farming accident at age 11.
"It's huge," said Porteous.
"It's tough at best. But to see it and the opportunity to have it and then the idea that they brought forward and have worked with us for the splash park, it'll be nice to see. It's for kids, I mean there will be adults that will use it too, but it'll be great to see the kids use it."
The family hoped to take the memories and support from the event.
"I mean there (has) been a lot of comradery, lot of laughs, some needed light side," he said.
Craig Couillard is co-chairman of the Golf Classic and said, "It's the largest single fundraiser in the history of Bow Island—so that tells you the size and scope of the event."
"It's been a real joy working with the next generation of community supporters that would be my children's age. So, Bow Island is in real good hands with this next generation that is helping us with this tournament this year."
While Couillard left Bow Island in 1992 and Loney in 1983, there something in the community that seems to draw them back.
"When I look around the golf course, there's lots of people that are former Bow Islanders who come back to support the town, support this event and support the families," he said.
Couillard anticipated between $425,000 to $500,000 being  raised from the golf tournament and silent auction and dinner for the splash park.
The Charity Golf Classic will be back in June 2022.