Foremost Flyers treating this season as normal
Posted on September 28, 2021 by 40 Mile Commentator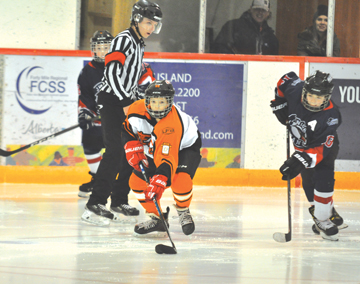 Commentator/Courier fille photo
Foremost Minor Hockey's focus is to go into this season as if teams were operating at a normal pre-pandemic level.
Last season saw the younger teams play five to six games and older groups hit the ice twice before being shut down and now it's just a matter of getting the players back into a rhythm again.
"I guess we're going to try and get the kids back into it," said Blake Klatt, Foremost Minor Hockey president.
"Some of the younger ones really missed out on the game play, and try to get everyone back into it and keep it rolling."
Adjustments for minor hockey will be to monitor what the government will or will not be implementing for COVID restrictions.
"As of now I don't think there's anything special—just the masking and whatever you have to do indoors—but there's no special things that we're going to do other than that," said Klatt.
"We're still a couple weeks away from hockey. I guess we'll just have to see if any new regulations are put in, but whatever the government tells us to do, we'll have to do."
The focus will be to get teams playing games and having fun.
Playing games out of town will hopefully bring some joy to minor hockey again.
"I hope that we'd be able to do that because that's the fun part of hockey is going to different towns and meeting different people," said Klatt.
The ice will be installed at the Foremost Civic Centre in early October and practices and games should commence shortly thereafter.
There are between 60 to 65 players from Foremost that are registered this season.
"I think we got as many kids or more than we've had in the past, so we're looking good," said Klatt.
A sense of relief will be felt when the puck drops on the first game in Foremost in a long time.
Klatt added, "In a small town, hockey is just such a big part of it. I think the whole community would look forward to be able to go to the rink."