Heat causing a slow start to sugar beet harvest
Posted on September 28, 2021 by 40 Mile Commentator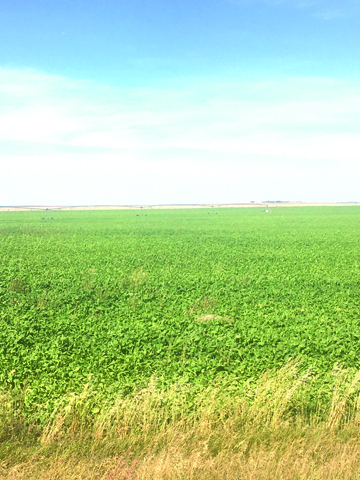 Commentator/courier PHOTO submitted by Bernie Lyczewski Pictured isBernie Lyczewski's sugar beet fields that are ready to be harvested after the temperature cools down.
By Justin Seward
Commentator/Courier
A dose of warm weather recently has slowed down the start to this year's sugar beet harvest.
Main harvest was supposed to start last week, but producers might have to hold off a little longer.
"We're having issues with the heat in the early harvest here," said Bernie Lyczewski, president of Burdett/Bow Island Sugar Beet Growers.
"They're only running five or six hours a day in trying to keep the beet root temperatures down. But there's a few a guy's going, but not too many I don't think."
While the sugar beet will keep growing and produce high sugar content in the heat, the crop will spoil in the sun if they sit in a pile too long.
"For now, I think what we're going to do is run some limited hours and see what the weather does," he said.
"If it cools down, then maybe the main harvest will start. But I think a lot of guys are still finishing up beans—there's probably not very many cereals yet, but the main thing is the beans. I would imagine if the weather stayed good by next week, it should be all done too."
Producers are always looking to add a quality sugar beet to the pile but are always at the mercy of the weather.
"Once the beet roots go over 13 degrees, then the likelihood of storage for long term, drop," said Lyczewski.
"Or like when you put wheat in the bin at 40 degrees and you don't cool it, it can have a tendency to heat. That's one of the issues with the root too—once you put them into the pile and they're too warm, they deteriorate really fast."
Sugar beet farmers have to be cautious when taking tops off the beats because the roots are exposed and will take more heat on as well as exfoliate.
Main harvest is expected to get underway on Sept. 29 after being delayed a week.
Lyczewski anticipates an above average being produced this year.