Hilda provides backdrop for scenes for movie Father of Nations
Posted on September 28, 2021 by 40 Mile Commentator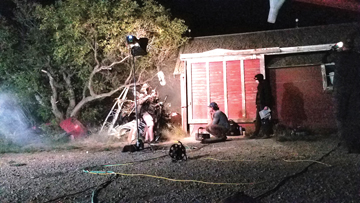 Behind the scenes pictures and screenshots of the film Father of Nations. Father of Nations was filming their final production weekend in and around Hilda on September 6th.
By Anna Smith,
Local Journalism Initiative Reporter
On September 6th, Thousand Year Films finished up their final production week on their post-apocalyptic drama, Father of Nations, in and around Hilda.
The project has been in the works since 2017, said Nathan Horch, who is the writer and producer of the film.
"I have a cousin who lives on a farm near Hilda and we were originally just looking for some old buildings to film in for this post apocalyptic drama that we were shooting," said Horch. "From there they just kept showing me and Aliesha more and more potential places, and it kind of expanded and grew beyond that. We kind of fell in love with the whole area when we were shooting and, and we got to know a whole lot more people around the town and on the different farms and acreages around. We really felt that the whole place was just a beautiful aesthetic that we needed for one of the segments that well, actually many segments of the film, but the town of Hilda specifically for a colony that we were going to have in the film. We kind of did a lot of community engagement, and to show what we were doing, what we were up to, and we really got the support of everyone around, and we kind of took over the town for, you know, a few weeks there and shot a significant portion of the movie in the town."
The town of Hilda fit the aesthetic of the film well, said Horch, with several building that has fallen into disuse alongside those that were still being used by members of the community right alongside.
"I think that the aesthetic really lends itself to this post-apocalyptic town called Haven in the movie that looked like people had come there, and we're trying to rebuild a civilization. So we felt that it really, really fit with what we were trying to achieve," said Horch.
Father of Nations follows one man's journey through the world as he navigates the loss following an event that's made much of the world uninhabitable.
Aleisha Anderson, a producer and the director for the film, said that part of the draw to Hilda was the fires that took place in 2017.
"There were some landowners who had a lot of the fire go through their area. So they were like, if you have one, post apocalyptic, we've got it here," said Anderson. "So we did quite a bit of filming there. And that really helped to tell the story about the hardship and the earth not being a place that was sustaining life. We follow him as he's trying to survive as he's lost things as he's trying to find hope. He ends up at this settlement outpost. And from there, there is a little bit of hope provided to him. And then we follow through to the rest of his journey. I can't give too much away. But it's one of the things we love so much about the area is the diversity, not just with the town, but also with the prairie and with the river hills and the bad lands that are around there as well. So all of those different landscapes, there's just so many beautiful places in the area that we were able to help tell the story. So yeah, it was just an amazing experience."
"One of the sets that we had was an old family homestead house. And it was yeah, several generations after the house was abandoned by whoever lived there to move into town or some other farm area, and the kids would go back and play there," said Anderson. "So when we were filming in there, you could see where you know, the kids had brought in gold toys and miniature tea sets and things like that. And it was kind of neat because here we were using the same house to you know, set up a house and play house, but for a movie and having the people who own the house a couple generations of them be involved in that and be able to see this home that had so much history in their family the centerpiece was it was really heartwarming as well."
The film has now moved into post-production after nearly five years in development, as is expected to be finished in 2022, a bittersweet experience for both Horch and Anderson.
"We're excited to share it with the world. This labor of love. But you know, also excited to see what's next. But right now, we are just really focusing and pouring into pulling everything together," said Anderson. "I we also just want to express our extreme gratitude for all of the local people and Hilda and the surrounding area that helped to bring this project to life really would not have happened without them. So this is, you know, there's two, and we can't wait to share it with everyone."
"You know, it's been a long journey. But we're, we're both really excited to show this to people, I don't think people are going to expect what they're going to see. And we hope that it really, really both moves people. We want to tell a story that's very moving and challenging," said Horch.