Talons cross country host another successful Invitational
Posted on October 6, 2021 by 40 Mile Commentator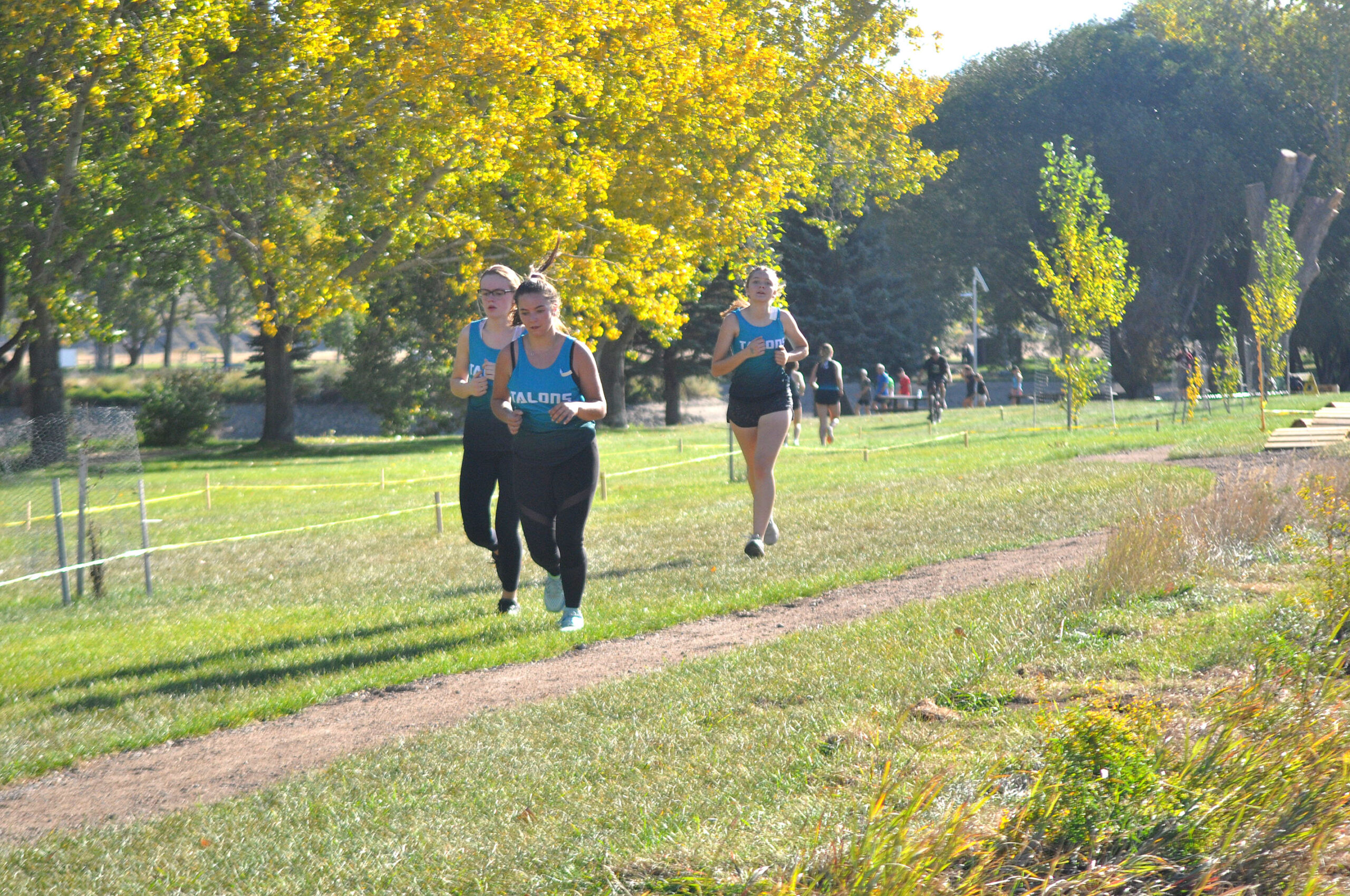 Commentator/Courier Photo by Justin Seward Eagle Butte High School Talons senior girls cross country runner Montana Van Maarion was followed by teammate Natalie Leifso during the 17th annual Talons Invitational at Echo Dale Regional Park on Sept. 25.
By Justin Seward
Commentator/Courier
There were 194 runners that converged on Echo Dale Regional Park for the Talons Invitational cross country run on Sept. 25.
Eagle Butte Talon Grade 12 Kailey Duchscherer did the event for a third time and came away with a bronze in the senior girls category.
"It's like a dirt bike trail—so a little difficult and it was hot this morning— but other than that it was good," she said.
She has been running with the same group of girls since Grade 10 and thought "It was really nice that we're still coming out and doing it."
"We're just like 'Good job, keep going, you can do it, almost done," she said, on how the group motivates one another.
Her motivation after winning a medal is remembering what she did this time and to know where she can push harder at the South Zone championship at the same track on Oct. 6.
Crescent Height High School's  Madison Scrimger won the seniors girls category with a time of 23 minutes and 43 seconds, Georgia Herter of Hat High placed second with a time of 27.17, Duchscherer had a time of 27.24, Talons' Janaya Laqua placed fourth, Hat High's Madeline Heese placed fifth and Eagle Butte's Sakura Ito , Montana Van Maarion, Sidney Williams and Natalie Leifso rounded out the placings.
Gage Smith of Hat High led the charge in the senior boys category with a time of 26. 21, followed by Eagle Butte's Colton Robinson with a time of 28.47. Cody These of Brooks Composite placed third, Hat High's Keegan Kolody (4th) and the Talons' Robert Skillstad (5th) rounded out the field.
Ty Schlenker, who placed fourth in the intermediate boys category, thought the track was pretty good.
"I feel like the school did really well," he said.
"I was behind three kids from Eagle Butte and one from Hat High. I feel like it was a good competitive level."
Talons coach Darryl Smith was pleased with his runners.
"There were some wonderful results," said Smith.
"We had some Grade 12 kids that are in the lower category and they performed exactly how I thought they would— they really did well. I'm pretty pleased with that. I'm pleased with a lot of things in the sense of just our kids' character. One thing I'm proud of is the kids that went back and ran with other kids."
The South Zone Championship will be at Echo Dale on Oct. 6.