Kurpjuweit named new FCM Rural Caucus chair
Posted on October 6, 2021 by 40 Mile Commentator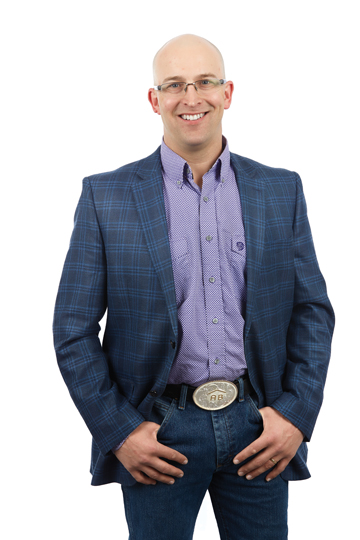 Robin Kurpjuweit Cypress County Coun. Robin Kurpjuweit is the new FCM chair for the Rural Caucus.
By Justin Seward
Commentator/Courier
Cypress County Coun. Robin Kurpjuweit was pretty ecstatic a couple weeks ago when he found out he was named the new chairman for Federation of Canadian Municipalities Rural Caucus.
Kurpjuweit will chair the meetings with the entire rural representatives from across Canada as well as hold an executive position on the FCM.
He was elected to the FCM board of directors in June.
"It was exciting," said Kurpjuweit.
"It's something that came up (two) week (s) (ago) where Ray Orb, who was our past  chair now, had been doing it for the past five years and did a phenomenal job with it, (he) really elevated the rural voice in Canada and did a great job doing that. So, he announced that he would not be seeking re-election in the chair position. I was super excited—there was a lot of support that came my way early on encouraging me to run and after giving it some thought and talking with my family, we decided to go ahead and do that."
Kurpjuweit will not only advocate for rural Alberta, but communicate the needs of rural Canada as chair to parliament.
"It's an overwhelming position because I know the importance of the role," said Kurpjuweit.
"It can be a little bit scary too but I think being nervous and wanting to do a good job is a good thing too because I'm not going to take it for granted."
Among topics that are discussed for Alberta include oil and gas, sustainable resource development, supporting farmers and the carbon tax impact on producers.
Broadband access is discussed on a national level.
"We experience that big time when you look at the COVID time," said Kurpjuweit.
"Kids at home in the rural communities have a hard time even doing online schooling, let alone families that weren't working or having to do work at home while their kids were doing school—the bandwidths just weren't there. That (has) been one of key priorities for the last few years and it will continue to be."
However, Kurpjuweit will have to focus on getting re-elected as a county councillor on Oct. 18 in Alberta's municipal election in order to keep the position.
"If I'm not elected, I'm not able to do it," he said.
FCM requires its representatives to be a municipal councillor before having the opportunity to sit on their board and run for their chair position.
Kurpjuweit is the incumbent councillor that will be up against Garry Lentz for Cypress County's  Ward 4 seat.
"It is a good opportunity not only for Cypress County, (but) it's a good opportunity for southeastern Alberta, for Alberta in general," he said.
"We've got a loud, strong voice and we have a really good delegation from Alberta and Saskatchewan and in fact is one of the best boards I've ever worked on. Everybody kind of has their political allegiances, but we were able to check it at the door and worked together on issues that are in common to rural and the urban."
With a minority federal government, Kurpjuweit feels there is no better time than now to find ways we can work together because of the divide is getting bigger and unity becoming harder to find on the horizon and it's the hope FCM can find ways change that.
FCM has 2,000 members and are the voice of municipal government at the federal level.
"This is pretty exciting for me because being in municipal government is a bit of a political anomaly in the sense that there are no party politics per se," he said.
"For me, I love working with the legislative assembly, I love to be able to work with parliament. I've always in my career thought about running either as an MLA or an MP at some point when my kids are older. This is a really nice way to be involved at some of those higher-level conversation, but doing it from a municipal perspective."
FCM will now submit a document to the government their important priorities and what are the first 100 days in government going to look like.