Glass House Haunting fundraiser back for a second year
Posted on October 12, 2021 by 40 Mile Commentator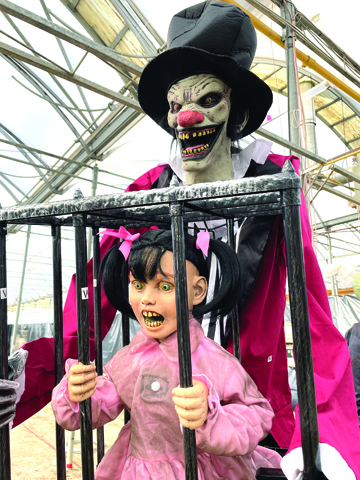 Commentator/courier PHOTO Submitted by Janae Ulrich An example of an animatronic at the Glass House Haunting fundraiser that begins Friday.
By Justin Seward
Commentator/Courier
The Glass House Haunting fundraiser is bound to provide a spook-tacular experience for guests in its second year, but in a different location.
The Redcliff Youth Centre is the sole host of the haunted house fundraiser this year and has moved its location from Second Street S.W. last year in Redcliff to Suntaira Growers Inc. at 332 4th Street S.W.
The haunted maze with be 12,000 square feet of different Halloween animatronics from Spirit Halloween and the local Home Depot.
"I think for a lot of people, the last 18 (to) 19 months ,have been really challenging for people and even pre-pandemic it's so nice to be able to go out with your friends and your family and enjoy one of the holidays that is really highly anticipated—especially by kids," said Janae Ulrich, RYC's executive director.
"And as you know, being Redcliff Youth Centre, we've got a lot of youth that come through our doors. We've got 298 youth that are registered with our organization and a lot of them are really interested in Halloween. We've hosted haunted house fundraisers in the past— so to be able to scale it up and provide something so fun and so unique to the community, it's just so beneficial to everybody."
Ulrich said, "I think it's going to be an exhilarating experience for all people that come and join us."
The Kinsmen Club of Medicine Hat took the gold sponsorship while UFA and Sun City Ford are bronze sponsors, and Maverick Oilfield and Redcliff FCSS took a room sponsorship.
"These are donors that have been super supportive to us in the past," said Ulrich.
The event will go from Oct. 15 to 31 and the hours are  Tuesday, Wednesday and Thursdays from 6 to 10 p.m. and Friday and Saturday from 6 to 11 p.m.
Entry fee is $5 or $15 per family of 4 and $3 with a non-perishable food item for the Medicine Hat and District Food Bank.
There will an indoor food truck alley featuring Cha Cha's Mexican Street Grill, Gypsie Girl Pizza, Pop's popsicle truck and D.L. Snack Shack.
A proof of vaccination will be asked for if people  choose to dine in at the food truck alley.
Attendees will be asked to use the hand wash/sanitization station upon entering the greenhouse and to bring a face mask.
Volunteers are needed for various duties and can sign up by either emailing Ulrich at rasysocial@gmail.com or through the Redcliff Youth Centre Facebook or Instagram pages.
All the proceeds go to RYC.