Talons win 3A South Zone banner
Posted on October 12, 2021 by 40 Mile Commentator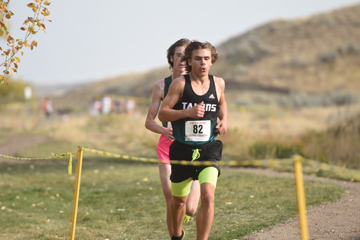 Southern Alberta Newspapers PHOTO Justin Jager paces himself to a fourth place finish and a provincials berth.
By Justin Seward
Commentator/Courier
The Eagle Butte High School Talons cross country team won the 3A South Zone banner for the 16th time in 17 years on their home track at Echo Dale Regional Park on Oct. 6.
The teal and black won the 3A category with 4,300 points, with next closest being Lethbridge Collegiate Institute with 3,300 points.
"I'm shocked, I'm really glad," said senior Talon runner Desiree Stuber, who finished eighth and will be heading to provincials.
"No, I really didn't expect to finish that high. Yeah, I pushed quite hard at the beginning and I wasn't afraid to pass a few people."
This was Stuber's first year of cross country as she participated in track and field last year.
She is the lone senior girl Talon heading to provincials. Sasha Elliott of Cardston took first place, Madison Scrimger of Crescent Heights High School placed second and Noa Jessen of Pincher Creek's Matthew Halton High School took home third place.
"I haven't thought that much far ahead about it," said Stuber on  her provincials trip.
"Yeah, I'm really excited, but I know I definitely won't get in the top 3. But that's not what really matters to me. What matters to me is like I got to this point—like I feel proud.
Senior boys' Talon Justin Jager will be heading to provincials after finishing fourth.
"I feel pretty good with myself, I think I did almost as good as I could," said Jager.
Jager will be joined by teammate Colton Robinson, who placed 10th, at provincials.
He is really excited to head to provincials and hope to shave a couple of seconds off his time of 25:37.91. Kieren Schmidke of LCI took home first with a time of 22:15.49, Cardston's Cooper Williams followed with a time of 23:59.49 and Erik Amelinckx of La Varendrye placed third with a time of 24:49.20.
"Extremely successful, and it's such a challenging race— the heat yesterday was tough," said Talons coach Darryl Smith.
"Every kid, from fan to first place finish to the last kid that was last in the race, left it out there."
Smith said there's a shot there at provincials.
"It's going to be a little bit of crapshoot and we'll see how it goes," said Smith.
"I'm confident in the talent we have going up."
Eight Talons will be heading to provincials in Red Deer on Oct. 16.