Two military wives now operate The Puck Stop
Posted on October 12, 2021 by 40 Mile Commentator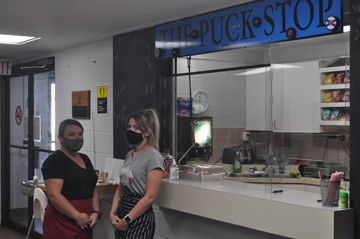 Commentator/Courier Photo by Justin Seward The Puck Stop managers Stacey Pemberton and Kirsty Reilly.
By Justin Seward
Commentator/Courier
The Puck Stop concession in the Ralston Arena officially reopened under the new management duo of Stacey
Pemberton and Kirsty Reilly on Oct. 4.
Both ladies arrived at Ralston last year as a part of military families.
"When we arrived last year it was a different lady that was doing it," said Pemberton.
"She did really good food and so when she left last year … it was really sad. Obviously with COVID, there's not much around in this area. So, when we got the opportunity to do it, we just thought it was going to be a really good idea to do because Suffield and this area is so quiet."
Both Reilly with her home-based business, Bake House , of making speciality cakes and Pemberton with her passion of cooking takeout food bring a unique combination to the arena's food stand.
"We just spoke and spoke about it and thought 'Yeah, let's go for it,'" said Pemberton.
"Takeaways is my thing— I love cooking takeaway food. Yeah, we just thought we would bring that aim. We can do takeaways on a Friday, every day of the week— unless there is much demand for it—and just trying to bring different culture between us because we're both military and we've both travelled around a lot. We've learned a lot of different things—so we're hoping to jut bring that in."
The experience will be "nice" to operate the concession in a hockey arene because the sport is new to them.
"I know Kristy's family is well intrigued into it and I'm the one that just started," she said.
The Puck Shop managers' hope is to get out to a few of the games "to see the difference and the interruptions" as Pemberton termed it,  at some of the games now that most COVID restrictions have lifted.
Pemberton said, "We're hoping to see the whole Canadian culture of difference."
Homemade food such a burgers, paninis and other menu items that have been successful in the past since the stand opened in 2014 as well as coffee and cakes.
A suggestion box is on the counter for people to put their input into.
The Puck Stop is opened Monday to Saturday and game nights will be later.