Bow Island Play School Association faring well lately
Posted on October 19, 2021 by 40 Mile Commentator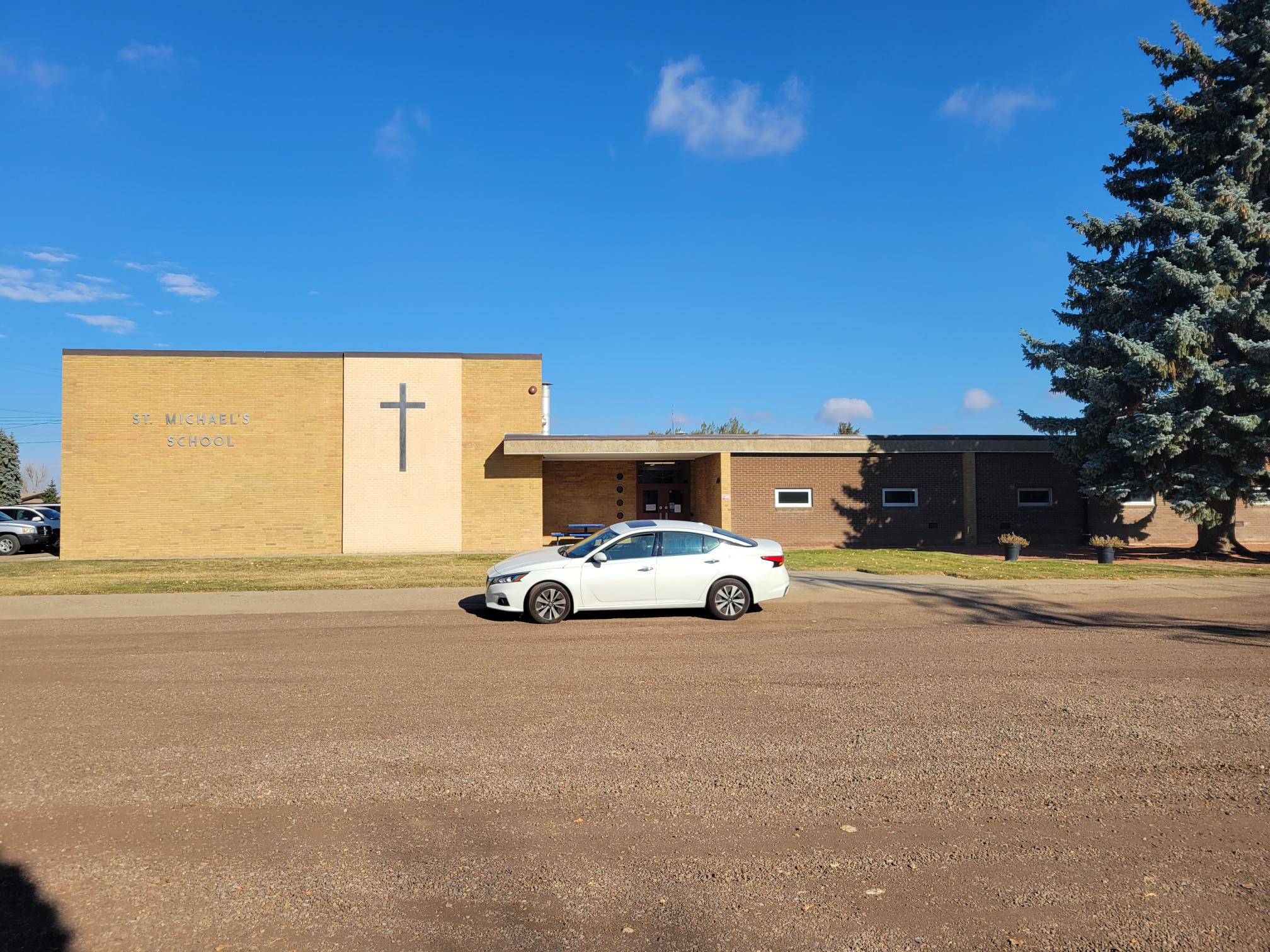 Commentator/courier PHOTO by Diana Bergen The Bow Island Play School Association is currently housed at St. Michael's School in Bow Island. BIPSA is grateful to be able to utilize the school's resources.
By Justin Seward
Commentator/Courier
Bow Island Play School Association has been around for over 10 years and continues to see a steady amount of young students walk through the door.
BIPSA is a community-run play school by parent volunteers and funded through casinos.
Classes are run out of a room at St. Michael's School.
"But they're very gracious with us,"  said Christina Remijn, BIPSA's licensing officer.
"We get a lot of support and other things from the school because we're in the building. So, if they like have a speech pathologist and we have a kid that's in need of that, we're able to get those kind of resources from the school. If they have guest speakers coming in, a lot of times we're able to join in to school assemblies to take part in things like that. It's been a real asset to be at the school to have all those things at our finger tips."
BIPSA's focus is for the students to come in and get used to a classroom setting with a teacher.
"It's literally to socialize with other kids their own age," she said.
Some of the students go on to St. Michael's when they're done play school, but most begin junior Kindergarten at Bow Island Elementary.
BIPSA is for three-to five-year-olds who come into the classroom twice a week and for the first time this year will add a third day in the week option.
"It's because we have some extra grant money from the government because I'm assuming COVID—they're giving an extra little boost to keep our staff happy," said Remijn.
"So, we're able to offer a third class that's going to happen in the spring during our last session. We try to offer as many things as we can to the kids—like with the lack of field trips last year—the Kindergartens missed out on things last year and I have older kids that are Kindergarten, Grade 1 and Grade 3 too— so it's been a rollercoaster with things like that. So, for the Play School, our teacher (Kaylee Ostenberg) has been very gung-ho about doing any kind of exposure to anything extra that you wouldn't do as a family."
Community exposure depends on who the teacher is for planning events.
"Like this last few years, we've had quite a high turnover because we had a teacher that was around for quite a few years in a row. As the board, we're trying to keep it a little more consistent to our programming because our teachers have been a little more overturned and we've gotten younger teachers that have just graduated that need experience before they can work somewhere more full time in the Hat. But the community exposure part is definitely something we want to work on—like to have it be more consistent as long as COVID rules allow."
COVID has brought on financial challenges with BIPSA not being able to host a casino.
Remijn said BIPSA might have to get creative with fundraising options.
A day at BIPSA sees the students come in and do circle time to see how they are doing, the teacher then organizes sensory activities or crafts at different stations, then depending on weather the kids are taken outside for nature walks or just on the playground, music time occurs and a  community member may come in such as the fire hall.
There are eight three-year-olds and five four-year-olds this year so far.
"It really fluctuates," she said.
"I would say average would be 10 students, give or take a couple. There seems to be a few years here and there that there was a huge baby boom—so then we have huge classes."
The Association would like to see more parent volunteers on the board moving forward and the continuation of a third class.
The current session runs until Dec. 9, second session goes from Jan. 4 to March 31, 2022 and third session is April 5 to June 16.
More information can be found by calling Remign at (403) 308-4391.