Dunmore Dugout Haunted Maze providing thrilling Halloween experience
Posted on October 19, 2021 by 40 Mile Commentator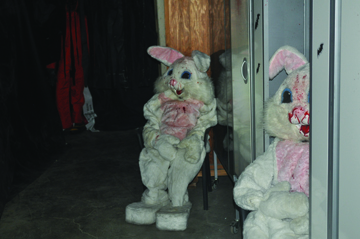 Commentator/Courier Photo by Justin Seward The haunted bunnies at the Dunmore Dugout Haunted Maze.
By Justin Seward
Commentator/Courier
The Dunmore Dugout Haunted Maze kicked off on Oct. 15.
The Haunted Maze moved from the outdoors at the Dunmore Dugout for the previous five years to indoors at 821 Industrial Avenue SE in Medicine Hat across from Medalta Potteries last year, so everyone did not have to endure the colder climate.
"It takes close to half an hour to walk through it," said Bart Chase, co-owner and creator of the Haunted Maze.
"We have a clown room, a butcher shop, an actual haunted witches house inside, a pirate area, a grave yard and a church—like there's probably 200 themes—it's pretty big."
People should expect fun when they attend the Maze.
"We don't want to get too serious," said Chase.
"You know a couple people get scared here and there, but it's all about the fun. If they take their time and enjoy the detail, it's pretty cool, because we all know it's not real. But if you have a little bit of an imagination and enjoy what Halloween is supposed to be, it's something that brings us altogether—kind of like Christmas."
There will be a dozen live people in the Maze.
There was approximately 500 hours put into the maze this year as the plans started in April with COVID lingering for this year's event.
Players from the U16 and U18 Medicine Hat ringette teams come in and help with the characters and a percentage of the proceeds go to the clubs.
There will only be one group allowed in the maze at one time and the line is spaced out where every 10 feet there is a crowd of people.
Dunmore Dugout Haunted Maze runs on Oct. 15, 16, 22, 23 and 27-31 from 6 to 9 p.m.
A matinee without live people is on Oct. 16, 23, 30 and 31 from 2-4 p.m.
Admission is $10.