Equine Interaction Program helping with a student's well-being
Posted on October 19, 2021 by 40 Mile Commentator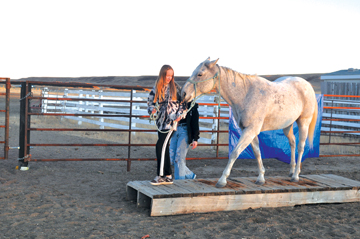 Commentator/Courier photo by Justin Seward Peyton Haddock and the horse ÔGreyÕ crossing one of the obstacles, which is a bridge in this case. It takes a lot of non-verbal communication for a person to take a horse through something that would not be part of their everyday routine as it was quite scary for some horses.
By Justin Seward
Commentator/Courier
Irvine School hosted an Equine Interaction Program at the hamlet's rodeo grounds  during the fall for students that were recommended to the program by principals, teachers or Prairie Rose Public School's family school liaison workers.
The focus of the program is mental health and well-being, where students have the opportunity to work on improving those aspects through objectively given exercises.
"The horse mirrors your emotions and can tell your feelings," said Linda Kraft, Irvine School's Equine Interaction Program co-ordinator.
"The kids, if they're really anxious about doing an activity, the horse is too. So, once they can kind of take a deep breath and calm down, the horse does as well, and they're able to get through their obstacles."
It was important to get the program in the school division because of the factors of students dealing with COVID, isolation and the shutting down of activities.
"It's even more important to have them out and doing something, and even just maybe even developing a new love for something that they didn't know they might be interested in," said Kraft.
Students learn the horse's body language through what their ears are doing, after grooming and being in tune and understanding what the animal's emotions are.
Kraft supplies her own horses and highlights how important the herd is.
"Such a really big part of the program is having a herd of horses because of their dynamic and their pecking order and how they relate to each other," said Kraft.
"They (students) draw a lot of parallels to certain horses versus certain kids."
Kraft has taught Equine Interaction in the past and as well runs the school's Equestrian Riding Program.
"This is more my passion, even than riding, is the equine attraction aspect of things," said Kraft.
Irvine School student Odin Jordet has learned that horses are a lot like humans with their actions when they look up to someone.
"I thought this would be what it is and it was like ground work," said Jordet.
"But I didn't think we'd being doing as much stuff like painting horses and all that."
The students were from both Irvine and Eagle Butte High School and the program will start back up in the spring and will be opened to all PRPS students.
More information can be found by emailing Kraft  at lindakraft@prrd8.ca or by asking their schools.