Redcliff Legion celebrating 95 years
Posted on October 19, 2021 by 40 Mile Commentator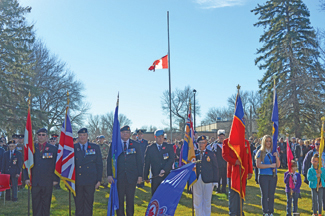 Southern Alberta Newspapers File photo Front and centre; Redcliff's colour party led a 300 person parade into Legion Memorial Park on Friday.
By Samantha Johnson
Commentator/Courier
The Redcliff Legion will be celebrating 95 years of serving veterans and members in the community on Oct. 23, having opened its doors on that date back in 1926. Kristine Huff, Secretary/Treasurer at the Legion said, "When we set the date for this dinner, we didn't realize that it falls on the actual date of the anniversary, so it's a big two in one. 95 years of this little branch being right in the middle of Redcliff."
It's been a difficult year for the Legion and, although they would like to hold a larger celebration, Matt Watton, president of the Legion, commented "Just at the moment (there is only a dinner) and speeches because of the current restrictions. Obviously, we have Remembrance Day coming up two weeks later and we are still planning for that to see what we can do."
Currently the Legion has confirmed numbers at 45 people that will be attending but Watton adds, "We have another week to collect numbers, which I'm thinking will go up to about 60. The Commanding Officers and the Regimental Sergeant Majors from both sides of the base, Canadian and British, have been invited out of respect. It has definitely been strained trying to work everything out with the government— they keep changing stuff—and with the funding issues we've been having in general. Working out dates and trying to get staff in, it has been hard, but we are making it a go to celebrate the 95th.
Huff continued on saying, "We are following the REP (Restriction Exemption Program), so if they have a proof of vaccination, a medical exempt letter or a negative rapid test they can attend."
There will be speeches from different ranks in the Legion.
"There will be a few speeches," said Watton.
" We typically have the Commanding Officers come up and they'll have a speech, I'll do a speech and the host (one of the executive members) will thank everyone for coming. More of it is finding the middle ground. For example, Remembrance Day we were thinking of using the ice rink but because the exemption program would involve turning people away it will be better to have a smaller service outside so if the government changes anything at the last minute we aren't stuck. Our frustration is it is a momentous occasion but with our current exemption program and the amount of people who aren't out and about, it's a difficult one. We might try and see if we can make another date later on down the road and do it again or wait another five years and do our 100 year properly."
The decision to go ahead with REP was a difficult one for the Legion. Due to the decrease in the number of members and visitors using the facilities, they've had to reduce their hours.
Watton said, "It has been stop and start, stop and start. We were picking up speed again by the beginning of September and then the exemption program came into effect so rather than coming in, many members are staying out at the moment. We've had to reduce our hours to reserve costs."
Huff added, "We've definitely had to be innovative in ways to keep the doors open and keep people interested. We've probably seen at least over a 65% decrease in our revenue. It's been a tough year, a roller coaster for sure, but we are still here, we have to do what we can so that we can still have another 95 years."
The dining room is only open on Fridays from 3-9 p.m. with the canteen open Tuesdays, Fridays, and Saturdays from 3 p.m. until close. However, the Legion has other events going on, including a pairs cribbage tournament that were held on Oct. 16, the 95th celebration coming up on the 23rd, along with dueling pianos on the 29th. See their Facebook page at http://www.facebook.com/redclifflegion/ for more details.