Drake defeats incumbent Coun. Timmons for the County of Forty Mile's Division 6 seat
Posted on October 27, 2021 by 40 Mile Commentator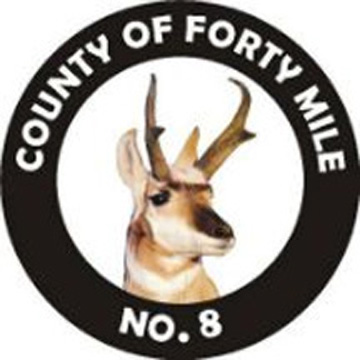 By Justin Seward
Commentator/Courier
Don Drake is the new Division 6 (Burdett and area) councillor in the County of Forty Mile after receiving 80 votes to incumbent Coun. Chantel Timmons' 57 in the municipal election on Oct. 18.
"Probably the idea of diversity—trying to bring more businesses into the county—I would think would be the major one," said Drake, on what went well for him.
"I'm in favour of trying to keep the school in Burdett open."
Drake thought the campaign experience was really different as he had never been through anything like it before.
"It was actually very pleasant though because all the constituents were very polite and very understanding and wanted to know stuff. It was good."
Concerns he heard were about taxes and the upkeep of the Burdett roads.
Drake realized that going up against Timmons, who served on council for the eight years previous, that she was really well known and well respected in the community.
"She has done an excellent job for the last eight years," said Drake.
Drake thanked Timmons for her eight years of dedication and service.
"So, the experience was very good."
He would like to bring openness and have a good working relationship to council.
His focus will be undetermined until he knows what committees he's going to get involved in.
"I am definitely a little shocked and sad, because I was so involved in a lot of committees that still had ongoing work," said Timmons.
" I almost feel like to those committees I'm letting them down not being there to finish projects. I love to be a part of things, which is why I have always been so active within my own community and when I became a part of the county as a whole those committees became very near and dear to me as well."
Timmons also ws shocked  shock of only seeing 139 voters out in Division 6.
"I can definitely say that is a disappointing number when I know how many people reside within the borders of this division.  I would love to see more people be active and engaged in the happenings of the county and community they live in."
For Timmons, campaigning felt different this year compared to the usual door knocking and visits with ratepayers
"With Covid and not knowing what everyone's comfort levels were (with) in person visits, I took to more of a virtual approach," she said.
"I have a lot of contacts within Division 6, as I have sat on committees with people along the way in my 25 plus years of volunteering."
Timmons send out emails, text messages and used Facebook, Twitter, Instagram and Snapchat to help spread the word about the election.
"I have always been available to anyone of the residents via telephone, email or in person visits so I had a few of those people reach out to me as well and help spread the word about the upcoming election," said Timmons.
A by-election date for Division 7, which was previously held by outgoing councillor/Reeve Steve Wikkerink, will be set soon.
Division 1's Joan Hughson, Diane Harty (Division 2), Stacey Barrows (Division 3), Craig Widmer (Division 4) and Al Kuizenga (Division 5) were all acclaimed.