Clarke reflects on time as PRPS superintendent
Posted on November 2, 2021 by 40 Mile Commentator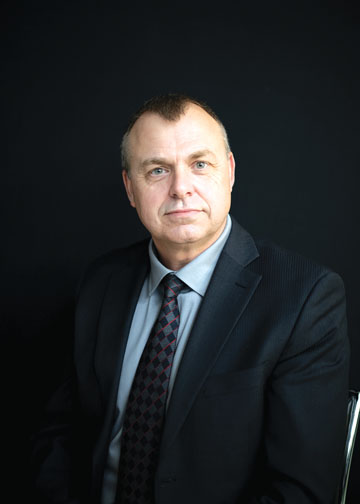 Photo Submitted PRPS superintendent Roger Clarke
By Justin Seward
Commentator/Courier
Prairie Rose Public Schools superintendent Roger Clarke worked his last day as the school division's superintendent on Oct. 29, before entering retirement.
Clarke has held the superintendent position for almost 17 years split between Fort Vermilion School Division and for the last four years at PRPS
He has been in education system for over 30 years in total.
"Prairie Rose was awesome," said Clarke.
"The people are incredible in terms of the staff of Prairie Rose—but also the parents and the kids we serve. I couldn't be happier with coming down to the south and getting the opportunity to be here—different environment for me—but climate wise, some of the things my wife and my family were looking for was nice personally. But from a work sense, all I can say is positive things around the notion of being able to come here and build programming and opportunities for kids."
When Clarke arrived  four years ago, he was enthused about PRPS being rural and the small-town feel.
"People in small towns have kind of 'Let's get to it' kind of attitude and let you get things done, and Prairie Rose is no different than that," said Clarke.
"In coming here and listening to the board of trustees at the time and what some of their expectations were, of course they wanted to have some creative thinking going on, some creative programming—that was one. We also wanted to really start working and trying to stem the tide of declining enrolment and we did that as well."
PRPS was able to get to ground zero before COVID and stop the slow decline of enrolment out of the system and were able to do so through creative programming and an environment that parents wanted to send their kids to.
Thirdly, under Clarke's watch, PRPS was able to get their budget in order in terms of spending efficiently, while still being mindful in the classroom in what is done.
"We were able to get the transportation portfolio in order, so it wasn't having huge deficits for a year (and) affecting the classroom that way," he said.
"So, all in all, between enrolment and the budgeting cycle and building the programming pieces from a creative perspective—I think all three were accomplished."
Clarke was involved in the process of getting programs in PRPS such as the South Alberta Willie Desjardins Hockey Academy, the Dave Rozdeba South Alberta Flight Academy, the relocation of the now SAHA U18 programs from Banff Hockey Academy to Eagle Butte, Irvine School equestrian program, Irvine School Agriculture Discovery Centre, the building of Coulee Collegiate in partnership with Medicine Hat College and Medicine Hat Public School Division for outreach students and adult education and securing a school in Medicine Hat for the Prairie Mennonite Alternative School (former Redcliff Mennonite Alternative Program)
"There (are) some significant accomplishments there," said Clarke.
"You know (I am) pretty proud of the people we have. The incoming superintendent Reagan Weeks is fantastic—she is an integral piece of all of that—and that was her role as well in teaching and learning. I'm confident that she's going to carry on that kind of work."
Like every other superintendent, Clarke has to manage the COVID-19 pandemic and is an experience he won't soon forget as he transitions out of division office.
"But COVID, yeah it's a lasting impression," said Clarke.
"The last year-and-a-half of my career has been completely immersed in COVID protocols each and every day. I would say that during work days up until last Friday (Oct.22), probably there wasn't a day that had gone by that I wasn't handling or managing some aspect of COVID in one of our schools or communities and through the summer as well."
Clarke plans to come back and visit PRPS.
"I was mentioning to someone that I'd like to come back and visit in a year or two and I will come back to visit Prairie Rose because I have friends down in this region," he said.
"I'd like for nothing more than for someone to say to me, 'You know Roger, we're no longer doing that program because it just ran its course. We built this new one, let me tell you about it.'"
His time in Fort Vermilion was similar to that of PRPS because he wanted to be a builder and felt challenged to be in a role where it was not being done to its fullest and believed in developing that position more.
"I call it doing school and kind of doing what you've always done and to be honest with you, it's boring," said Clarke.
"It's boring for the leaders, but it's also boring for the attention for people who have been in it for 25 or 30 years. So, if you're not building and creating, how do you keep yourself motivated?"
The Newfoundland native's retirement plans include returning to his home province with his wife Valerie to spend time with extended family and at their cabin, return to Alberta to spend time with their adult children Jared, Erin and Brady, a couple times a year and planning a trip to a warmer destination in the winter months.
Reagan Weeks took over the superintendent position on Nov. 1.