County of Forty Mile's low vaccination rate a continuing risk
Posted on November 2, 2021 by 40 Mile Commentator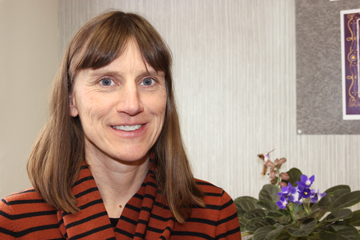 Dr. Vivien Suttorp.
By Justin Seward
Commentator/Courier
Dr. Vivien Suttorp,  medical officer of healthfor Alberta Health Services' South Zone, spoke to local-area media about what the low vaccination rate in the County of Forty Mile means moving forward.
The County of Forty Mile's full immunization rate is the lowest in the province at 34 per cent.
"When we look at our geographic areas in South Zone and for County of Forty Mile, it's low and has been the lowest all along since COVID immunization has started," said Suttorp.
While the County of Forty Mile has the lowest immunization rate in the province, Suttorp says it's a small number, which is important to remember and also parallels the immunization rate for children.
"We also have low immunization rates in that community for childhood vaccines," she said.
"(It's) one of the reasons why we have whooping cough outbreaks in that area."
Suttorp was asked  with low vaccination rates in certain counties if this could contribute to a fifth wave.
"The big risk is in communities where there are  low immunization rates," she said.
"That community may be a geographic community, it may be a school community, a private school community, church community, a work place. If there are low immunization rates, there is increased risk of ongoing transmission within those locations."
There are many concerns that can be brought on if the low immunization rate continues.
"When public health measures are being lifted and eased based on overall Alberta-wide immunization rates, that doesn't mean those immunization rates are the same everywhere," said Suttorp.
"So, as we ease restrictions, there are still some communities or some schools or some seniors facilities that are at significant risk."
Suttorp said Alberta Health Services has taken many steps to ensure there is access ,when it comes to helping increase vaccine rates.
"There's many modes of access," she said.
"There's been quite a lot of outreach to all our communities and community partners as well as community leaders, religious leaders to encourage immunization."
Stewart Payne, the County of Forty Mile's director of emergency management said, "As we are seeing, the fourth wave of the COVID-19 pandemic here in Alberta , with minor exception, a wave of the unvaccinated, we are concerned with the low vaccination rate here locally. Our saving grace has been the low density of our population and its proximity to larger, more urban, centres. Ultimately, our active case rate has been reasonable to manage with the provincial restrictions and guidelines."
Payne wanted to remind local residents that vaccines are proven to drastically reduce infection and the severity of illness.
"Everything has a risk," he said.
"We strongly recommend talking to your medical doctor about the vaccines and whether they are right for you. Protecting yourself helps protect the vulnerable part of our community."
The next lowest full vaccination rate in the province is Two Hills County at 36 per cent as of Oct. 27.