Hamilton back in the reeve's chair
Posted on November 2, 2021 by 40 Mile Commentator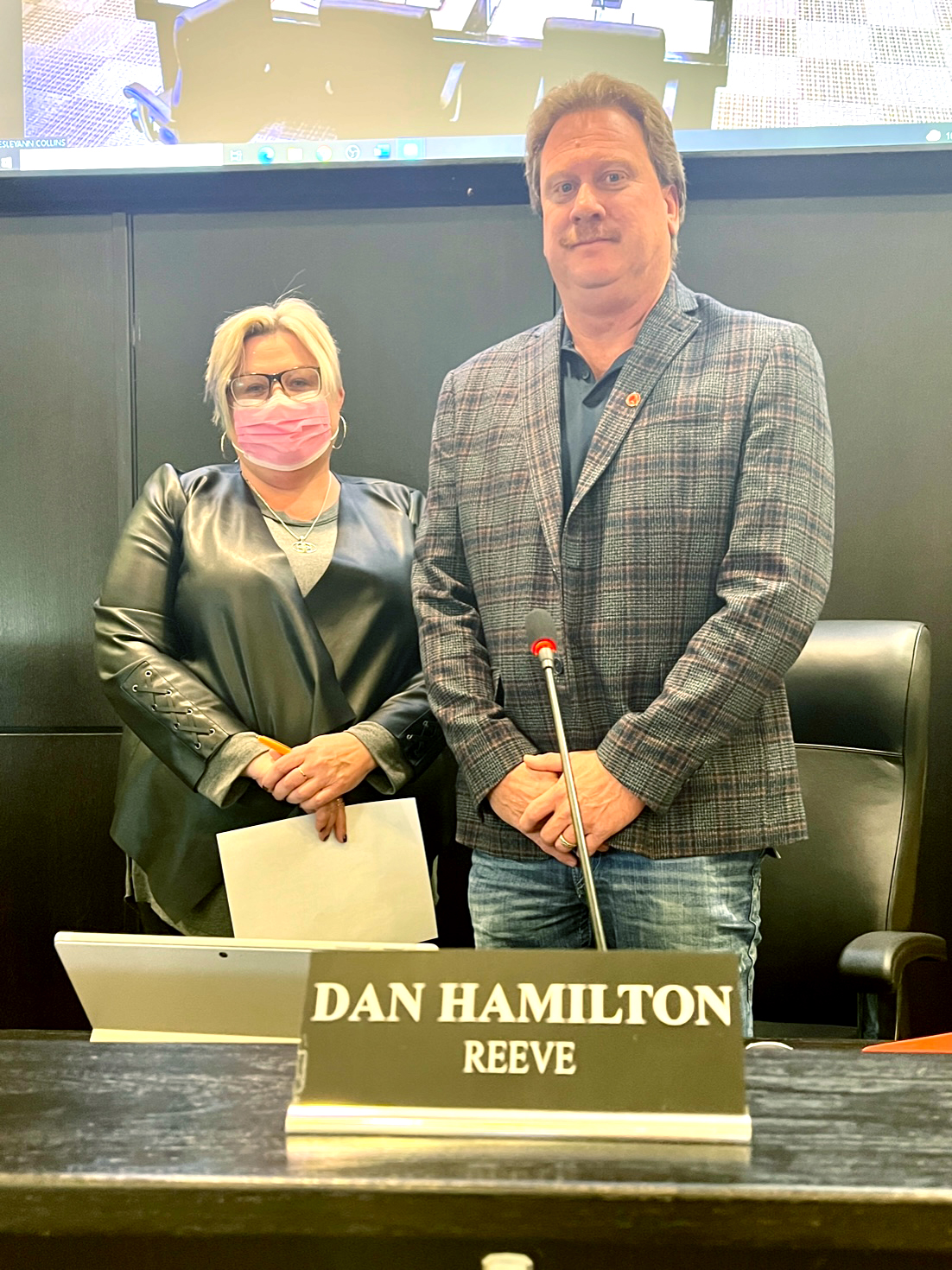 PHOTO courtesy of cypress county Cypress County CAO Tarolyn Aaserud poses beside newly re-elected county Reeve Dan Hamilton Monday, Oct. 25 at council chambers in Dunmore.
By Justin Seward
Commentator/Courier
Cypress County council held its organizational meeting on Oct. 25 and elected Dan Hamilton as the reeve for the fourth straight year.
"It's overwhelming on how much faith they have in me," said Hamilton.
"I don't take it lightly. It's a heck of a position. There's been a lot of people in the past that have done a good job to do the position and I'm ecstatic that these fellow councillors respect that I can do it."
This will be Hamilton's third term on council.
Hamilton feels he has grown as reeve since the first year.
"I know how timid I was and I look back and I think 'that was a big leap to get in to that position'," he said.
"But I've learnt a lot over the years. I've developed good relationships with the other councils. We have two new ones on now (Blaine Brost and Lloyd Want) that I'm looking forward to growing a relationship with those two and just proud to be there."
Hamilton will not change his approach to chairing meetings as he likes to treat everybody equally and make sure everybody is heard and has all the information in front of them to make the best judgement.
Hamilton admits the weakest area for him was being the face of the county and being in front of the public when he was first elected as reeve.
But now he feels he has grown and has gotten better at communications and networking.
"I got quite a few emails and texts from other mayors  and that,that were very excited that I was back in as reeve," he said.
"We have grown some relationships over the last four years between that and those are key for keeping a good council going and keeping in touch with other counties, so that we all can talk and discuss what's going on with the upper politics."
Richard Oster was elected as deputy reeve.