Pythons eliminated by Hawks in playoffs
Posted on November 2, 2021 by 40 Mile Commentator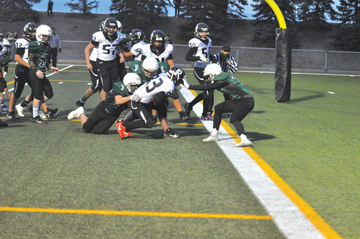 Parkside Pythons #23 Austin Mclean tries to punch the ball into the endzone against the Alexandria Middle School Hawks on Oct. 22 at the Methanex Bowl.
By Justin Seward
Commentator/Courier
The Parkside School  Pythons bantam football season came to an end on Oct. 22 in the opening round of the playoffs at the hands of the Alexandria Middle School Hawks by a score of 33-20 at the Methanex Bowl.
The snakes found themselves down 26-0 at half time, but fought hard in the second half to make for an interesting finish.
"… It took that long for my team to realize what they're capable of," said Pythons coach Nathan Kobley.
"I don't if it's being down and they finally decide to play—but they finally saw what they can do and it's very scary what they can do. They're very talented kids."
What worked against the Pythons was when quarterback Ottoh Foley left the game after the third play of the game with a deep cut that send him to the hospital.
"We unfortunately had to put in our Grade 7 quarterback (Blaze Mannarino) and he did awesome," said Kobley.
"…It took us awhile without our starting quarterback to find our rhythm and we did that and I'm so proud of these guys for the last game of the year."
Kobley felt if they would have had another quarter, the Pythons would have beaten the Hawks and moved on.
"Unfortunately, we didn't find our rhythm until eight minutes left in the fourth," said Kobley.
The loss caps off a winless 0-7 campaign.
"It's just a learning year— a COVID year—starting with an entirely new coaching staff figuring out each other and a group of new kids," said Kobley.
"We hadn't seen each other. Like, I only have four or five returning kids. So, having those guys comeback and that's it. Normally I know the kids already from previous years. Like next year we'll be even better because we'll have a spring camp and then all of the kids moving up—so, now our 20 Grade 7s are now going to be Grade 8s—so they get better and then in another year, the 20 of them, they all stick it out, they're all going to be Grade 9. And then the roles will be reversed and we'll be up."
There will be a new local bantam champion this year after the Pythons won the league title in 2019.