Big Marble Farms to have all blackout curtains
Posted on November 12, 2021 by 40 Mile Commentator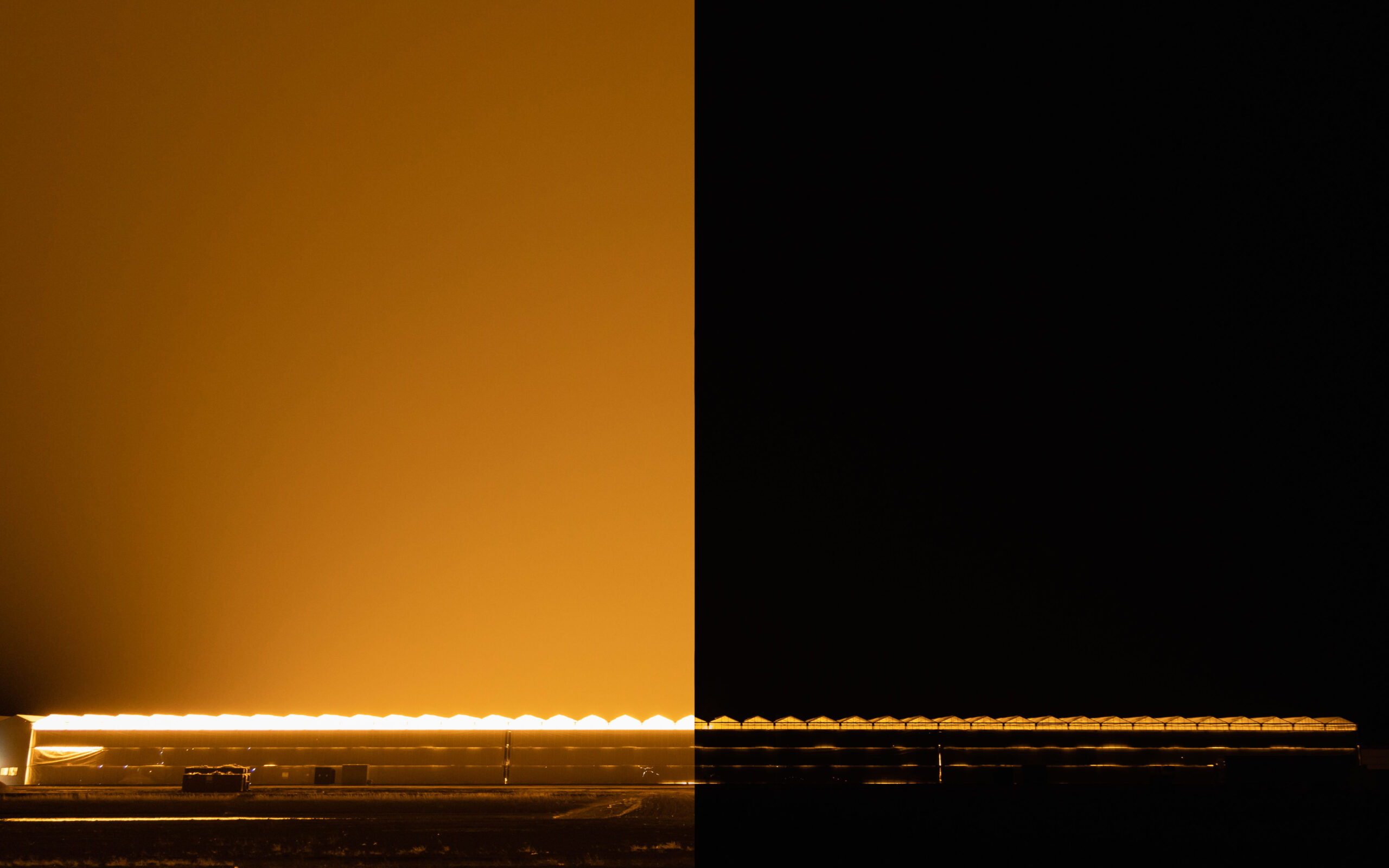 Commentator/courier Submitted pHOTo Pictured is the difference in what blackout curtains will make in lessening the light pollution at Big Marble Farms.
By Justin Seward
Commentator/Courier
Big Marble Farms announced on Nov. 1, that there will be ceiling blackout curtains installed on all of the existing greenhouses by next spring.
"The project will significantly decrease the amount of light emitted during the winter months and reduce the impact of our business on the broader community," as read in the release.
As it stands, Big Marble currently has 20 acres of blackout coverage to comply with Cypress County bylaws.
It will be once the project is finalized that all 55 acres of greenhouse will have ceiling blackout curtains.
"We want to be good neighbours, said Ryan Cramer, Big Marble Farms CEO.
"We want to be able to be a positive business in this community and for that reason we looked at the other two facilities, which make up a total of 35 acres combined—one 20-acre greenhouse and one 15-acre greenhouse. And we looked at those two facilities and we made the decision to make the investment to be proactive on this thing right and reduce the amount of light and impact on the community."
Big Marble Farms knew the technology existed and that it was an expensive venture.
"I guess if we want to look to an example, we looked to our 2020 expansion, where we installed them right from the beginning," he said.
"Right when we expanded, we put up that greenhouse, we put these blackout energy screens in and like I was saying before, we had seen the impact that it had. We did our own test, we took photos, in fact I think we released a photo with this press release that shows the before and after—it's incredible."
The black curtain screen will close during the night and immediately when the sunrises will open for the day.
"It's kind of a trade off," said Cramer.
"You're containing it during the night, but you're not admitting it during the day because of course you have natural light. But we want to be able to utilize the sun—that free light we get here every day."
Cramer said the black curtains will trap a little bit more humidity and it something they need to be aware of.
"I think the thing that is even a bigger impact on the crop is that is traps more heat" he said.
"Because the lights do give off heat and eventually what is going to happen if that curtain is all the way closed— if it was 100 per cent closed, the heat would build up."
The county's bylaw will allow for greenhouses to close at 80 per cent during the night with a 20 per cent gap.
"We have that in place for those mild nights in the winter time," he said.
There was not a lot that Big Marble Farms could do prior to the ceiling blackout curtains concept other than making sure that their off period was in the evening between 6 and 11 p.m. when more people were at home to lessen the light pollution.
"So, there's not a lot you can do besides blackout curtains to mitigate the light escaping the greenhouse," he said.
"We can certainly schedule around people's lives a little bit and we tried our best to do that. But, you know the only way to produce a local vegetable 365 days a year, it takes a very long lighting period. The only way it can work for a cucumber or tomato for example is to run 17 to 19 hours a day, depending on which crop we're talking about."
The retrofitting for the 15-acre greenhouse is ongoing this fall.